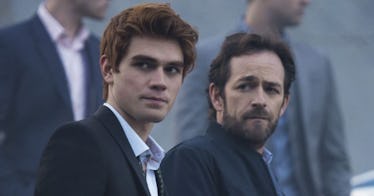 This Big Twist On The 'Riverdale' Season 2 Premiere Has Fans Cheering
The CW/YouTube
If there is one thing we have come to love Riverdale for (aside from seeing Archie shirtless), it's the (overly) dramatic tricks the show constantly pulls. Seriously, between Jason Blossom's mystery murderer, Cheryl Blossom charbroiling her family's mansion, and Fred Andrews getting shot, Season 1 was a rollercoaster of "are you f—ing kidding me?" moments. Now, after the Season 2 premiere, it's obvious we're in for much of the same this time around. That's right, Fred Andrews is alive on Riverdale and, after a dramatic Season 1 finale that left viewers uncertain about his fate, it has started the season with one of the biggest plot twists ever.
In case you don't remember, the Season 1 finale of Riverdale is effin' bananas. It's hard to stay focused in any one direction. I mean, fires, attempted suicide, surprise brothers (this sounds a lot like Thanksgiving with my mom's side of the family TBH), it is just one jaw-dropper after another in the "safe, decent, innocent" town of Riverdale.
Nothing is as intense, though, as the final moments of the episode where Fred Andrews is shot by a "burglar" at Pop's. (As if Archie hadn't been through enough that day — you know, having punched through solid ice to pull Cheryl's dramatic ass outta freezing cold water before she drowned to death and all — he had to watch his father get shot in the middle of a diner. SMH, give the 15-year-old a Gatorade break for cryin' out loud.)
Of course, the finale left us with a real humdinger of a cliffhanger, and most people assumed Fred died after seeing him on the floor of Pop's covered in his own blood. Low and behold, though, we were wrong. Archie's dad is alive and (kinda) well.
Season 2's first episode, "A Kiss Before Dying," opens with Archie racing his father to the hospital where he is immediately taken into surgery. The suspense is kept high for most of the episode, since we're not sure if Fred lives through surgery until towards the end, but, ultimately, he comes out on top.
After waiting for several long months to get our answer, we finally have it, and hardcore Riverdale fans are shook, excited, and not sure what to expect next.
Naturally, there is still a lot to be unraveled. Jughead ominously said Fred's shooting was "an act of violence that was anything but random" in the Season 1 finale, and we clearly have a new murderer on our hands, so Season 2 is already following in the mystery-driven footsteps of its predecessor.
If this first episode is any indication of what's to come, Season 2 is going to be as twisted and suspenseful as anything we could expect from Riverdale. It's been confirmed that several new characters — including Betty's long lost brother, Veronica's father, and a new female Serpent — will hit the scene and undoubtedly shake things up for the main crew, and Cole Sprouse has already revealed this season is set to be much darker than Season 1. The actor told TVLine in May,
I think the whole show is going to be getting darker and stranger. We're going to be leaning into a lot of those qualities that a lot of people ended up loving in the first couple of episodes — this heavy cinematography, this overbearing coloration, this really dark content that's kind of over-the-top and campy, but it's taken very seriously.
Looks like all there is left to do is settle in and get ready for another season of OMG moments in Riverdale.
Check out the entire Gen Why series and other videos on Facebook and the Bustle app across Apple TV, Roku, and Amazon Fire TV.