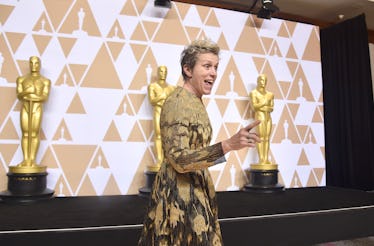 Frances McDormand's Oscar Trophy Was Stolen & The Details Are So Scary
Alberto E. Rodriguez/Getty Images Entertainment/Getty Images
Frances McDormand won the Academy Award at the 2018 Oscars for Best Actress for her amazing performance in Three Billboards Outside Ebbing, Missouri. And her acceptance speech was pretty much straight fire. The actress opened by saying she felt like Chloe Kim after she crushed those back-to-back 1080s in PyeongChang, and then closed by asking all of the female nominees in every category to stand with her in the room. So powerful and bad*ss. But sadly, after the ceremony ended, Frances McDormand's Oscar trophy was stolen, and the details are pretty wild.
According to a tweet from Cara Buckley at The New York Times, McDormand's Oscar was swiped during the infamous Governors Ball after party — and the guy who took it did so in a seriously bold way. According to reports, he pretty much just picked it up and took off after the two-time winner set it down during the party in order to chat. Buckley tweeted out a photo of the suspect, who was later caught. "Security at the Governors Ball are looking for this guy, who grabbed Frances McDormand's Oscar and ran out with it," she wrote. "Wolfgang Puck's photographer stopped him, got the Oscar back, and the guy disappeared back into the ball. Apparently Frances has said to let him go."
McDormand is such a generous soul. I can't say I would have done the same. Of course, I've never won an Academy Award either, so there's that.
Also... Wolfgang Puck travels with his own photographer? Fancy! And it turns out the guy's a real-life hero, to boot!
Meanwhile, according to USA Today, before McDormand was reunited with the statue, she was spotted "crying emotionally outside the Governors Awards ball after giving up the search for the statuette on the premises, and departing with her husband, filmmaker Joel Coen." I SO don't blame her! Security was then dispersed to go find her Oscar, which had luckily already been engraved with her name during the ball.
Check it out:
Look how happy and proud she looks! How dare someone try to take this incredible moment away from her!
Despite McDormand's decree to let the thief go, TMZ is now reporting that he has been arrested and booked on felony grand theft. Apparently the guy — whose name is Terry Bryant — was photographed with the stolen award by Puck's photographer, then found by security holding the Oscar in hand. They then turned him over to the cops.
Oh, and get this: Bryant even posted a video of himself showing off the statue on Facebook, while pretending it was his.
"What's up baby boys and baby girls," he says in the clip, while sipping from an over-flowing glass of champagne. "Look it baby, got this tonight. This is mine. We got this tonight." Then he holds McDormand's Oscar up to the camera.
McDormand played Mildred Hayes in the crime drama Three Billboards, a woman seeking justice for her daughter's murder. So perhaps this is a case of life imitating art (though obviously, no murder went down here). The two-time Oscar winner beat Sally Hawkins of The Shape of Water, Margot Robbie of I, Tonya, Saoirse Ronan of Lady Bird, and Meryl Streep of The Post to take home the statue, and I'm just so glad she got it back.
Oh, and she marked the big homecoming in the best possible way. "After some brief time apart, Frances and her Oscar were happily reunited," McDormand's publicist told USA Today. "They celebrated the reunion with a double cheeseburger from In-N-Out Burger."
Of course they did. Couldn't love her more. Still don't know what an inclusion rider is, though.