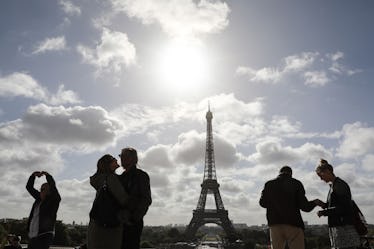 France Might Make Catcallers Pay Fines & America Could Learn A Lesson From It
LUDOVIC MARIN/AFP/Getty Images
France may be trailblazing a new era of intolerance for sexual harassment, and not just with a social movement, but in Parliament. While the sharing of sexual harassment stories originated in the United States, France might make catcallers pay fines and Americans could learn a lesson from it. On Monday, Oct. 16, Marlène Schiappa, France's junior minster of gender equality, said that France was exploring the idea of fining individuals for street sexual harassment and how much the fines would cost. Schiappa, who is also an author and a feminist, said the government was going to consult with professionals on the legalities of such a proposal and create workshops for citizens across the country, according to the New York Times. The goal is to bring this proposal to Parliament by next year.
The inspiration for this proposal came not only from the dozens of sexual assault allegations against Hollywood producer Harvey Weinstein, but from a related growing social movement happening in France. Just as the hashtag #MeToo erupted from women in the United States, French women have started their own, #BalanceTonPorc, or "Expose Your Pig." This was started by journalist Sandra Muller on Friday, Oct. 13, when she accused a powerful French executive of sexual harassment on Twitter, quoting his words, "You have big breasts. You are my type of woman. I will make you orgasm all night," in her tweet. Since then, thousands have jumped on the wagon, with many deciding not to disclose their harasser's identity, according to the New York Times.
The cross-continental growth from these social movements may come from the fact that several French actresses were among the dozens of women who came forward with accusations against Weinstein, including Florence Darel, Judith Godrèche, and Léa Seydoux, according to the New York Times. It's no wonder that French women have followed suit from prominent French actresses, just as many American women were inspired to come forward by their Hollywood role models.
Schiappa spoke to RTL radio on Tuesday, Oct. 16, saying she was inspired by the #BalanceTonPorc hashtag. She said,
We all have stories of harassment and assault. One of my best friends said something with this hashtag that she had never told our group of friends. This hashtag, with the barrier created by a screen, can help people speak out, and I think that it is truly beneficial.
While this powerful movement was started in the United States, the French are one step ahead in transitioning social movement into policy that can actually have repercussions for sexual harassers. Powerful leaders of the country have also clarified their stances on sexual harassment, with President Emanuel Macron announcing on Sunday, Oct. 15 that he had started the process of stripping Weinstein's Legion of Honor Award, an award that is considered the highest honor in France, according to the Huffington Post. Weinstein received this award in 2012 for striving to promote foreign cinema back in the United States.
Brigitte Macron, the French first lady, has similarly made a public statement regarding the Weinstein allegations, praising sexual harassment victims for coming forward with their stories. She went on to say that she hoped something good could come of the "bad," in reference to Weinstein, according to the New York Times.
Prominent figures in the arts have taken a proactive step, such as the Academy of Motion Picture Arts and Sciences, which stripped Weinstein of his membership. But, we have yet to see any moves toward change in the American government. If France's proposal is passed and put into action in Parliament, the United States may have to take notes from overseas.