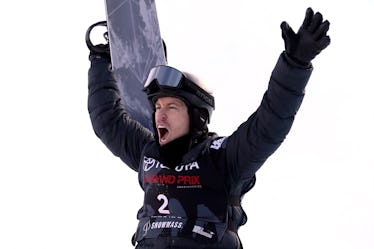 Here's How To Follow Shaun White On Snapchat So You Don't Miss One Trip Down The Slopes
Matthew Stockman/Getty Images Sport/Getty Images
Social media has hit a new extreme in the past few years, and it was only recently that you could rely on the fact that basically everyone maintains an active Facebook, Snapchat, Twitter, and Instagram. Otherwise, how do you ever get to know somebody? Olympic athletes are no exceptions, and soon-to-be four time-Olympian Shaun White has definitely become accustomed to sharing his journey with fans. The 31-year-old snowboarder has won two gold medals over his Olympic career and, given his age, PyeongChang might be his last Winter Games. So, to prevent missing out any of his potentially iconic trip, it's about time you follow Shaun White on Snapchat.
The redheaded, once long-haired California native specializes in the halfpipe event, taking home two gold medals over the course of his Olympic career. This past October, he actually crashed into a halfpipe while snowboarding in New Zealand and required 62 face stitches. Following the accident, he was rushed to intensive care when his lungs began to fill up with blood. NBC Sports reports that he then suffered a pulmonary lung contusion, but White managed to recover in time to participate in Olympic qualifying events. If that doesn't scream "champion," I don't know what does.
Although he maintains active Instagram and Twitter accounts, White's Snapchat, @shaunwhitesnap, is perfect for direct access to White's time on the slopes. Speaking as someone who prefers to celebrate the cold by staying inside with a hot beverage, I definitely appreciate this.
Although he hasn't plugged his Snapchat on other social media recently, White has previously used the account for behind-the-scenes looks into exciting events away from the halfpipe. In 2016, he attended Men's Fashion Week in New York, taking advantage of New York-themed filters when telling followers to look for his snaps.
It appears that when Olympic preparation was imminent this past year, White was least active on Snapchat, but given how taxing qualifying for the Olympics can be, I don't blame him. Speaking to Robb Report in December 2017, he said:
There are a lot of things that I'm approaching differently this time around. Has it gotten easier? A little bit, just because I'm taking the necessary steps — like I worked out this morning. I didn't work out before. Having an agent, working out, doing all that stuff was not cool at all for a snowboarder. But it's accepted now, and technically I am an athlete. Out of everyone in the gym, I really need to do these exercises so that I can compete.
Like with social media growing, Olympics athletes beginning partnerships with brands is more common, but White working on a public persona seems to have caused trouble for him in the past. Snowboarders have a reputation of having mellow personalities who are truly just happy to play the sport, and reports have suggested that White's intense competitiveness has previously isolated him from the snowboarding community. Gus Kenworthy, a Team USA Olympic skier who was a 2014 silver medalist, said of White at the beginning of the Sochi Olympics:
He is for sure an individual, and it's an individual sport...There's a huge sense of community within skiing and snowboarding, and I don't know if he necessarily fits right into the middle of that...He's not a professional snowboarder. He's a celebrity. He's an icon.
However, many of the current U.S. snowboarders are young enough that they grew up watching White compete, suggesting that he has an unprecedented leadership role at these Olympics.
With just over two weeks to go until the start of the Winter Olympics, fans will have to keep an eye on White's Snapchat to see if he'll start using it again. Athletes could create great snaps just by hanging out in Olympic Village together, TBH, so fingers crossed for White's play-by-play account!
To learn more, visit teamusa.org. The Winter Olympics will air live starting Feb. 8.