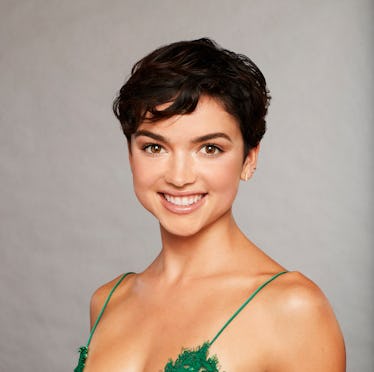 Follow Bekah From 'The Bachelor' On Social Media So You Don't Miss A Single Thing
You definitely either love or hate Season 22 Bachelor contestant Bekah M., but if there's one thing we can all agree on, it's that the girl's social media game is on point. We're only two weeks into the new season, but Bekah's Instagram and Twitter accounts have already become legendary within Bachelor Nation. If you follow Bekah from The Bachelor on social media, you're in for plenty of self-deprecating tweets, photos that only emphasize how young she reportedly is, and, further down the line, perhaps some amazing-looking Bachelor cast reunions. Who cares if she's so much younger than 36-year-old Arie? She's clearly a star in the making with or without him.
Although a first glance at Bekah's Twitter and Instagram may give you severe flashbacks of Season 21 contestant Corinne (who was also quite young compared to her Bachelor, Nick), Bekah seems capable of poking fun at herself in a very aware way. This is much more than we can say about Corinne, who still doesn't understand why you're laughing at her saying "cheese pasta."
While the season preview hints at drama surrounding Bekah not telling Arie her age, things between them are hot and heavy at the moment. Not that much of Bekah's personality has shined through on the show yet, which is why I think following her on social media is the best way to get to know her.
Firstly, although she appears super put together on TV, Bekah proved that she's just as likely to throw on a pair of sweats and chill when she's at home. In a recent Instagram video, she showed herself in comfy clothes while, on TV, Arie was discussing how she could be the perfect package for him.
And, yes, while she has retweeted messages comparing her to Rizzo from Grease, Bekah has kept busy by making Bachelor screenshots of herself into highly relatable memes. Excuse me while I write down her captions for when I need a boost of inspiration.
Although there's obviously no clues of her actually ending up with Arie on her pages, she's already getting used to sharing photos of them together. Just saying.
As per usual with Bachelor casts, she's already shown signs of friendship with other contestants, retweeting (Queen) Bibiana's post with a message of approval. When Bibiana asked the Internet, "When someone calls you a slut, is it appropriate to respond with 'hoe is life'?," Bekah had the perfect response.
There's even sights of the other Becca on her Twitter! Bekah retweeted Becca K.'s funny reaction to the former's faux fur coat seen in the last episode. Arie seems to be into both of these women, and he even joked about the possibility of them being a (confusing) final two while on Jimmy Kimmel. I still can't keep the multiple Laurens straight (are we down to two now?), but I wouldn't complain if Bekah and Becca made it to the finals.
Bekah looks ridiculously young, perhaps even younger than her rumored 22 years. This seems to be thanks to a really, really good set of genes. A photo of her with her grandmother, who I thought was her mom, proves that Bekah is probably going to age beautifully. She and her siblings, who are also featured on her Instagram, are lucky to have genetics on their side.
While Arie isn't as much of a social media guru as Bekah (he doesn't even live tweet episodes!), he talked about her in his most recent blog for PEOPLE:
My chemistry with Bekah M. was off the charts. I was apparently able to make up for the 'excitement makes me so excited' line. I can't say I've ever dated anyone like Bekah. She's so smart, charming, and charismatic, and as far as our kiss...well, I feel like the kiss says it all.
Bekah's social media is clearly a gold mine of fun cast friendships and relatable humor. I'll definitely follow her for more insight into this year's Bachelor season.