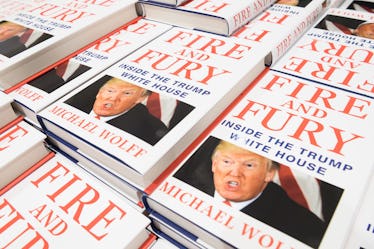 That Bombshell Trump White House Book Might Be A TV Show, & Reality TV Has Come Full Circle
Leon Neal/Getty Images News/Getty Images
As if President Donald Trump wasn't on TV enough already, his presence is now set to expand in the coming years. Despite the fact that Trump already dominates the news headlines on a daily basis and is consistently the central joke on virtually every current late night talk show, he will now might be immortalized (so to speak) on the small screen in a different light. Because Michael Wolff's non-fiction "exposé" Fire And Fury might actually become a TV show, so Trump's TV career is truly coming full circle.
The Hollywood Reporter reported on Jan. 17 that Wolff's recently published book on Trump's first year in the White House has officially been optioned for a TV series. The film and television rights were purchased by Endeavor Content, and is rumored to have made a whopping seven-figure deal in purchasing the rights to the bestselling book. A network has not yet been attached to the deal, as Endeavor will now begin shopping the project.
The only thing that surprises me about this deal is just how quickly it happened, but even that probably shouldn't shock me considering how much publicity this book received before it even hit stores nationwide. Ahead of the Jan. 5 release date, explosive quotes from former top Trump aide Steve Bannon made headlines, excerpts from the book were published by media outlets such as New York Magazine, and Wolff made the rounds on most major news networks to promote and defend his account of Trump's first year in the Oval Office.
This won't be Trump's first go-around on a television series.
Trump's original character on TV (for those of us who remember) was as the mean and tough "no-nonsense" boss on NBC's hit reality show, The Apprentice. Trump's signature line on the series, "you're fired!" was heard on a regular basis in living rooms across the country from 2004 though 2015, after which former California Governor Arnold Schwarzenegger took over as host. What we did not know back then is that we'd be hearing the "you're fired!" line applied in real life once Trump eventually took his seat in the White House.
So Trump's TV career is really coming full-circle here. He's played himself on his own reality show, he plays himself once again on a very different kind of reality show (in that what we are experiencing today is actual reality), and now it looks like somebody will be playing Trump in what I can assume will be a "based on a true story" TV series.
The person who should be least surprised by this news is Trump. I mean if you look at the numbers, this book was bound to be optioned — and fast.
Following the extensive publicity, Fire And Fury went from the #48,449 to the #1 spot on Amazon in just 24 hours. The book gained so much attention in such a short amount of time that Wolff's publisher changed their date of publication and pushed it to an earlier date to accommodate the high demand. The book debuted atop The New York Times Best Sellers list and has shipped more than 700,000 copies to date and has 1.4 million copies on order, according to its publisher Henry Holt. With this much consumer demand and attention, a screen adaptation for the book was pretty much set in stone.
Because this project was only just acquired and does not have a network backing it yet, we shouldn't expect a Fire And Fury premiere anytime soon. But maybe we can at least get Alec Baldwin on board? Or bring back Darrell Hammond? His Trump impression was always my favorite.