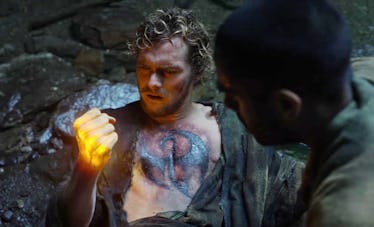 'Iron Fist' Is Canceled, But Finn Jones Has A Message For Fans About Danny Rand's Fate
Netflix
Marvel's universe of Netflix shows just suffered its first major casualty, but that does not mean the Defenders are going to be down a member. After Netflix announced that it would not pick up a third season of Iron Fist over the weekend, the show's star Finn Jones posted a response to Iron Fist being canceled, and the emotional statement is actually giving Marvel fans hope that we have not seen the last of Danny Rand.
On Friday, Netflix shocked Marvel fans by announcing that Iron Fist will not return for a third season, marking the first cancellation of any of the streaming service's slate of Marvel shows. The news comes just over a month after the second season of Iron Fist debuted in full on Netflix. After news of the series cancelation broke, Iron Fist star Finn Jones took to Instagram to share a grateful statement:
With every end is a new beginning. I have an enormous amount of love and respect for everyone involved with the last two seasons of this show. Defending the greatest city in the world amongst the most talented and warmest people has been a privilege and a joy. Blessed to have taken this journey and grateful for the ongoing support.
But although Iron Fist may be over, that does not mean that Danny Rand will be gone from our TV screens forever. Alongside Iron Fist, Finn Jones also played his superhero in last year's team-up miniseries The Defenders and appeared for an arc in the recent second season of Luke Cage. Given Marvel's propensity for crossovers, it seems likely that the Iron Fist will pop up again in a possible future season of Daredevil, Jessica Jones, Luke Cage, or The Defenders.
Netflix's own statement announcing the Iron Fist cancelation also teased that the superhero would not die with the series, writing that the Iron Fist will continue to live on:
Marvel's Iron Fist will not return for a third season on Netflix. Everyone at Marvel Television and Netflix is proud of the series and grateful for all of the hard work from our incredible cast, crew, and showrunners. We're thankful to the fans who have watched these two seasons, and for the partnership we've shared on this series. While the series on Netflix has ended, the immortal Iron Fist will live on.
Entertainment Weekly confirmed that Iron Fist will continue to appear in the Marvel universe, although fans do not know exactly when or in what capacity we will see him next. The second season of Iron Fist ended with Danny Rand seemingly losing his powers to his ally Colleen Wing, only to reveal in the final moments that he can actually form two iron fists while holding a pair of guns in China. A third season would have likely focused on how Danny was able to regain the power of the Iron Fist on his mysterious journey to China, but now that will likely be truncated to a brief monologue during a future cameo in another Marvel series.
Also unclear is whether other Iron Fist lead Colleen Wing will be able to return alongside Danny Rand in a future Marvel series. Jessica Henwick posted an Iron Fist behind-the-scenes clip show to commemorate the canceled series, but there has not yet been word on the future of her character.
For right now, fans will just have to wait and see when Danny Rand will appear next within the Marvel universe.