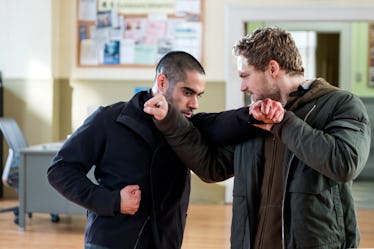 Here's Everything We Know About 'Iron Fist' Season 3
Netflix
When Iron Fist Season 1 arrived back at the beginning of 2017, the reviews weren't great. In fact, it was the first Netflix Marvel series to be roundly-panned. It was a surprise moment since the first three series (Daredevil, Jessica Jones, and Luke Cage) all were received positively. It was also a little embarrassing because Netflix had already greenlit Season 2 before Season 1 even debuted. So, the question is will there be Iron Fist Season 3?
It's not as simple as it once was. Back in early 2017, Netflix still was running on their system of renewing every show they made. It didn't matter if the show was good or bad, the entire idea was viewers could invest in a program and be sure they would be rewarded with more if they did so.
But the policy changed, only a few months after Iron Fist's debut season premiere. By June, the streaming service had started canceling their lowest-rated series, like Sense8, even if it had a loyal following. By the time The Defenders rolled around in August, no show was being given an auto-renew before it premiered. By the way, there's still no The Defenders Season 2 in the works, either.
But The Defenders was an outlier in the Marvel canon. Even if the renewals weren't guaranteed, they still kept coming. It just took about six weeks. The Punisher premiered in November and Season 2 was announced at Christmas. Jessica Jones Season 2 premiered March 8 and renewed by the end of April.
This brings me to the one-two punch of Luke Cage at the end of June and Iron Fist, premiering Sept. 7. Luke Cage Season 3 has not been announced yet, a slightly worrisome outcome as GLOW, which arrived the week after, was renewed on the 6-week mark in mid-August like clockwork.
Luke Cage's reviews were moderate. I happened to like the twist ending, but not everyone was so bullish on the story. Iron Fist's reviews, which arrived on Sept. 5, are also tepid in nature, though they all acknowledge the show has improved. The question is, is Netflix considering renewing the two shows separately for a third round? Or will they follow the path they've already been hinting at and combine the two shows into a new series, Heroes For Hire?
When the Luke Cage and Iron Fist comics faltered in the mid-1970s, the way Marvel kept the characters going was by teaming them up. Danny Rand works best when he has a foil like Luke Cage to act against. Moreover, Iron Fist Season 2 has already heavily advertised that Misty Knight, one of Luke Cage's mainstay characters, will have a "featured special guest appearance." Combining Misty Knight and Colleen leads to another spinoff series in the comics: Daughters of the Dragon.
Whether there will be an Iron Fist Season 3 remains to be seen, in about another six weeks. But even if the show doesn't come back in the format it's in now, Netflix has more than enough options to continue their stories, just in a new series.