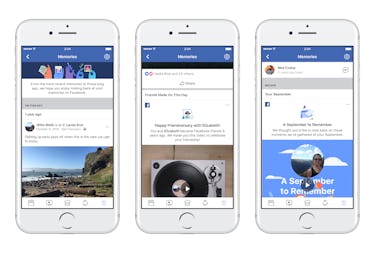 Facebook's New Memories Page Is Coming, So Get Ready For Throwback Posts
Do you remember when you first got Facebook and constantly updated your status to let your besties know what you were up to? Honestly, I'd like to forget the all the song lyrics I put as my status in high school, but there are plenty of throwback photos and posts from friends that I would love to see today. You might be familiar with seeing old posts with the "On This Day" page, but Facebook is upping the nostalgia factor with its newest update. Facebook's new "Memories" page will remind you of all the best times you've shared on the social media website, so get ready for all the throwback posts you can handle.
Facebook announced the debut of the Memories page on Monday, June 11. This new page is similar to posts you find with On This Day, but Memories will share so much more, too. According to the release penned by Oren Hod, Product Manager for Facebook, Memories has several sections of your own throwback Facebook activity to explore. You can reminisce about all the memorable moments from your Facebook past thanks to these four sections included in Memories: On This Day, Friends Made On This Day, Recaps of Memories, and Memories You May Have Missed Lately.
Facebook Memories is available on iOS, Android, and on your computer at facebook.com/memories beginning Monday, June 11. If you don't see it right away, don't panic — because the update will roll out for "the next several days," per Facebook.
So, what kind of fun throwback "hits" can you expect to see in your Facebook Memories? Well, the On This Day section is similar to what you're used to seeing now. You'll still get to see what you were doing on the same date years earlier, so you can look forward to keeping up with the memories of major events like your senior prom (you know you want to see that dress again) or college graduation when those dates roll around.
It's no surprise that On This Day is included in Memories, because per Hod in the release, "Every day more than 90 million people use On This Day to reminisce about these moments they've shared on Facebook."
When you explore the Friends Made On This Day section, you'll be transported back to the days when managing Facebook friend requests was a full-time job. You can see the friends you made on a certain date in the past, and you can watch "friendversary" videos to celebrate the best of the best.
If you fall behind on keeping-up-with-your-memories duties, you can count on the Recaps of Memories and Memories You May Have Missed sections to ensure you get a much-needed dose a nostalgia. The "Recaps" will show you monthly or seasonal recaps of your best memories conveniently put together into a message or short video, so you can get your throwback fix even if you're short on time.
The Memories You Have Missed section brings your memories from the past week back to the forefront to make sure you get a chance to see them. The new and expanded Memories page is set up in a way to ensure that you don't miss out on particularly noteworthy memories just because you got busy and couldn't check Facebook for a few days.
If you're thinking you don't want to come across a particularly painful or not-so-fond memory, you can take steps to make sure it doesn't show up on your Memories page. Per The Verge, you can "block out specific people, dates, and date ranges" in your preferences. Furthermore, Facebook "automatically detects potentially negative memories based on friend reactions and keywords," so you don't have to worry about those bad days from your coming back in your Memories.
Facebook first introduced On This Day in March 2015, and this new Memories page is the company's effort to continue improving on the original nostalgic endeavor. It's thanks to feedback from users that Facebook was able to design the new Memories features so that it enhances all of its users' personal experiences on the site.
I have definitely enjoyed some fun blast-from-the-past posts with On This Day, so I can't wait to see what kind of fun moments the new Memories page has in store for Facebook users — fingers crossed that all of my Fall Out Boy lyrics stay safely in my Facebook-status past.