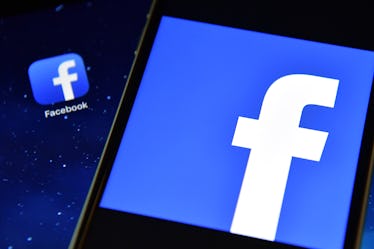 Facebook Is Launching Two New Features That'll Make It Easier To Brag About Your IRL Life
Carl Court/Getty Images News/Getty Images
Facebook is all about bringing people together... and creating envy-inducing posts. No album or status is complete without a bit of FOMO, and now the site's latest updates really kick that sentiment into high gear. Facebook Local App & Stories launched, and they're perfect if you want to make your friends a wee bit jelly about your latest outing.
Unless it's on social media, people will think it didn't happen, so you have to go all out when you share an update. Now that's easier than ever. The Local App is a new way for friends to give each other trusted recommendations about what's happening in their neighborhood, from restaurant specials to fun events. Think of it as Facebook's answer to Yelp with sources you can count on for the truth: your best buds.
When you think about it, the Local App is a perfect way to put the "social" in social media. Once you hear about that go-to coffee spot through the feature, you'll plan a get-together ASAP. You'll be able to interact with friends IRL, share adorable posts of the pastries you decided to order, and give the friends who missed out a taste of what they need to experience. Is your old roomie really going to pass up an opportunity to meet you for sweets? After you write that review in the Local App, I'm willing to bet she'll be at the next get-together.
But this is not the only way to give friends a peek at what you're up to (and get them a little jealous about the chocolate croissant they missed at breakfast). Facebook also launched stories, a way for users to see real-time updates from friends. It's nothing new, but the way to access them via events certainly is. Let's say you got an invite for your BFF's Friendsgiving party and said you were interested but were unable to attend. Now events have stories of their own, so those who RSVPed or said they were interested in attending are allowed to see those real-time posts for 24 hours. This feature isn't available for people who aren't subscribed to the event, however.
It's becoming increasingly easy to do anything you want via Facebook — it's the social media site that does a little bit of everything. Recently, Facebook launched a food delivery service, so you can order those late-night burgers if the craving strikes. What can't Facebook do, really?
"We're certainly looking to bring a number of partners together to work with us — and that's chains as well as services," the company's Vice President of Local, Alex Himel, tells Elite Daily. Though your favorite social media site is still looking to add restaurants to its growing roster, here are the delicious spots it has already teamed up with for this new feature:
DoorDash
ChowNow
Zuppler
EatStreet
Slice
Olo
Jack in the Box
Papa John's
Wingstop
Panera
TGI Friday's
Denny's
El Pollo Loco
Chipotle
Five Guys
Jimmy John's
"People already go to Facebook to browse restaurants and decide where to eat or where to order food, so we're making that easier ... in just a few taps," Himel adds.
There's certainly a lot to look forward to on Facebook, and it appears that the site is actually looking for ways for users to meet IRL rather than just interact through a newsfeed. It's definitely taking its features to new levels. Now if you'll excuse me, I'm going to order breakfast from Panera and let everyone know the go-to places in my nabe during the holiday season. See you on Facebook... or at that coffee shop.
Check out the entire Gen Why series and other videos on Facebook and the Bustle app across Apple TV, Roku, and Amazon Fire TV.