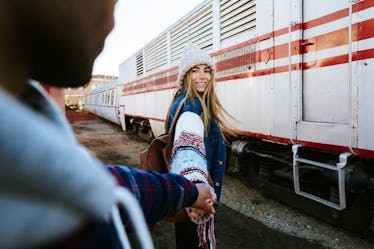 This Chocolate & Cheese Train Is The Stuff Of Dreams, So Get Ready To Eat Your Heart Out
Chocolate and cheese lovers of the world, unite! You'll be stoked to learn that a chocolate train actually exists in Switzerland. It's one thing to visit one of the most beautiful countries in the world, but it's another thing to treat yourself to an incredible cheese and chocolate experience while you're there. Eurail is a company that sells all-in-one train tickets throughout Europe. With Eurail, you only need one train pass to visit the countries on your ultimate Euro trip bucket list. (It's as simple as that!) One of the most exciting train rides you'll probably ever hop on is the chocolate train. Basically, Eurail's chocolate train in Switzerland is the stuff of dreams, and you need to buy a ticket as soon as possible.
When was the last time you took a scenic train ride? Furthermore, when was the last time that you visited a chocolate or cheese factory? These days, it seems like everyone travels via plane or car. Trains seem to be a thing of the past in many destinations around the world, but Eurail makes it so easy and fun to see the dreamiest places on your wish list. You'll travel through beautiful parts of Switzerland and have access to the official chocolate train. You'll be able to sit back, relax, take in the views, and savor the most incredible chocolate and cheese in Switzerland.