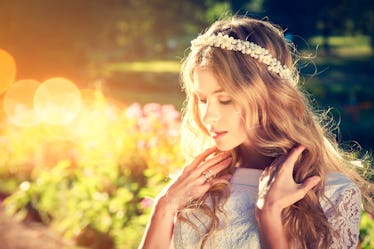 Etsy's Top Wedding Trends For 2019 Have A Throwback That'll Make You Fall In Love All Over Again
Here comes the bride, because it's officially wedding planning season. Now that you have the beautiful new bling, it's time to start planning the thing. Everyone's predicting new trends that everyone will want to have this year. If your wedding bells will be ringing some time soon, you'll love Etsy's top wedding trends for 2019 that include some major throwbacks that will make you feel nostalgic.
From your dress to your decor, Etsy can be like the perfect wedding planner. With a simple search, you can find pretty much anything you're looking for. I love going to Etsy when I need something unique, personal, and trendy. In fact, I use Etsy's top trends all the time to get the 4-1-1 on what's really in. If you're also looking for major inspo on your big day, you might want to check out these eight trends that Etsy believes to be must-haves in 2019. It definitely takes some of the stress off of you as you're trying to make yours a ceremony to remember.
Even if you are not the one who's getting married this year, but just taking your duties as bridesmaid seriously, you'll fall head-over-heels in love with many of these items. Who knows, you might see something that you want to say, "I do" to.