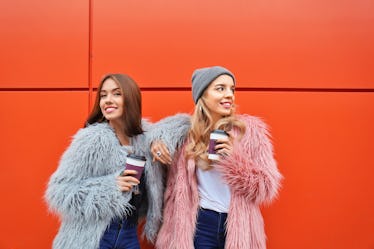 Etsy's 2019 Color Of The Year Will Fuel Your Wanderlust, So Pack Your Bags
Last year, millennial pink and lilac were literally everywhere. From Insta-worthy home decor, to chic clothes in your favorite stores, those colors have been all the rage in 2018. Now that this year is coming to a close, you may be wondering what the new "it" color will be next year. Well, Etsy's 2019 color of the year has been revealed, and it's burnt orange. Etsy also stated in their 2019 trend predictions that this upcoming year will be the year of "being real."
The beautiful burnt orange hue has an earthy, yet vibrant, tone. What does this mean for you in 2019? You may have been adding a bunch of new destinations to your bucket list, including Sedona, Arizona and Reno, Nevada. You're making it a resolution to travel more in the new year, and this color will give you major inspiration. (It personally makes me want to travel to the coolest desert locations across the U.S.)
Overall, I'm loving the orange hue, and I definitely see myself adding a few burnt orange accessories to my wardrobe as soon as possible. If you're feeling this color as well, you might want to consider treating yourself to any of these six burnt orange items from Etsy.