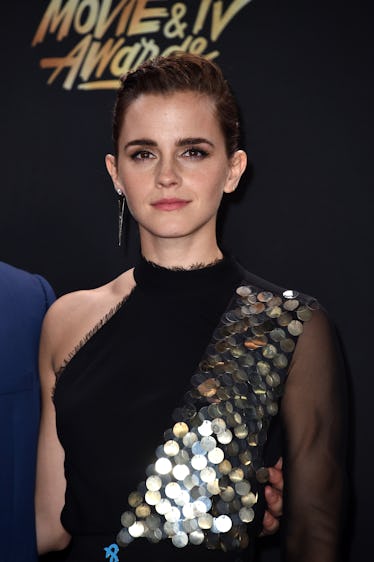 Emma Watson & Boyfriend William 'Mack' Knight Reportedly Split, So Love Is Officially Dead
Alberto E. Rodriguez/Getty Images Entertainment/Getty Images
Let's talk about a subject that has managed to stay out of the headlines for years: Emma Watson's love life. The actress lives a bold life protecting women's rights as an United Nations ambassador and being a beacon of feminism in today's world. However, when it comes to her private life, she keeps things tightly under wraps. She's been in a relationship with William Knight for two years, and you may just be learning about him now. Don't get too attached, because Emma Watson and William "Mack" Knight have reportedly split. If Emma Watson isn't safe from heartbreak, WHAT HOPE IS THERE FOR THE REST OF US?
Knight was seemingly a good match for the ivy league educated actress. According to People, he is a Princeton and Columbia Business School graduate, making the two quite a powerful pair. He currently works as a senior manager at Medallia in Palo Alto, California. The couple was first linked together in Oct. 2015 when they were seen at the Broadway musical, Hamilton, together. According to Page Six, Knight and Watson have gone their separate ways after two years, but there doesn't seem to be any hard feelings. A source told Page Six,
They amicably went [their] separate ways in early 2017.
Watson may be reportedly on the market again, but you probably won't be hearing too much more about her personal life. This is no accident — the actress works hard to protect her privacy.
Watson said, "Privacy for me is not an abstract idea," during an interview with Vanity Fair in February of 2017. Watson keeps her work and play very separate because it's essential to living the life she wants. She explained to the publication that she doesn't want her partner to feel like they are part of "an act." Watson told Vanity Fair,
I want to be consistent: I can't talk about my boyfriend in an interview and then expect people not to take paparazzi pictures of me walking around outside my home. You can't have it both ways… I've noticed, in Hollywood, who you're dating gets tied up into your film promotion and becomes part of the performance and the circus. I would hate anyone that I were with to feel like they were in any way part of a show or an act.
Not only is it rare to see photos of Watson with a significant other, you seldom see fan photos of her, either. The Beauty And The Beast actress revealed that she does not take selfies with fans.
In true Emma Watson nature, she actually has a very good reason. She said,
For me, it's the difference between being able to have a life and not. If someone takes a photograph of me and posts it, within two seconds they've created a marker of exactly where I am within 10 meters. They can see what I'm wearing and who I'm with. I just can't give that tracking data.
That's not to say Watson is rude about it, she simply does not want to put herself in danger. She continued,
I'll say, 'I will sit here and answer every single Harry Potter fandom question you have, but I just can't do a picture.' I have to carefully pick and choose my moment to interact.
Watson revealed that she obviously can't say no to the littles.
When am I a celebrity sighting versus when am I going to make someone's freakin' week? Children I don't say no to, for example.
I can't really blame her for wanting to live life out of the spotlight. As of now, her acting career and professional accomplishments stand solidly on their own. Whether dating, single, or anything in-between — Emma Watson is a legend.
Check out the entire Gen Why series and other videos on Facebook and the Bustle app across Apple TV, Roku, and Amazon Fire TV.