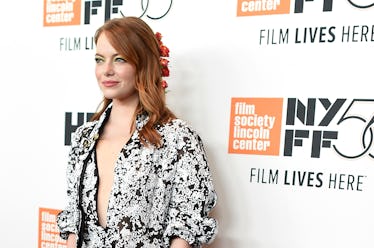 Emma Stone Revealed The Terrifying Story About Her First Panic Attack At 7 Years Old
Dimitrios Kambouris/Getty Images Entertainment/Getty Images
I've long admired Emma Stone's honesty. From her role capturing the tennis superstar and pioneer for equality Billie Jean King in Battle of the Sexes, to the time she called out sexism at the 2018 Oscars while announcing the winner for Best Director, the actress is never hesitant to keep things real. The same holds true for Stone's own personal struggles; E! News reports that in a recent video interview, Emma Stone told the story about her first panic attack, which she said happened when she was just 7 years old.
While Stone has been honest about her struggles with anxiety in the past, in this latest video interview, the actress described, in detail, what that lifelong battle with her mental health has actually looked like, specifically when she was still a child. Stone spoke with the Child Mind Institute president Dr. Harold Koplewicz about the first time she had a panic attack at 7 years old: "It was really, really terrifying and overwhelming," she told Dr. Koplewicz. "I was at a friend's house, and all of a sudden I was convinced the house was on fire and it was burning down. I was just sitting in her bedroom and obviously the house wasn't on fire, but there was nothing in me that didn't think we were going to die."
Stone first told the story of this experience in a cover story for Rolling Stone back in 2016. During that interview, she explained that this panic attack at 7 years old was not an isolated incident. "There were some flare-ups like that, but my anxiety was constant," she told the magazine.
Stone also told Rolling Stone,
I would ask my mom a hundred times how the day was gonna lay out. What time was she gonna drop me off? Where was she gonna be? What would happen at lunch? Feeling nauseous. At a certain point, I couldn't go to friends' houses anymore – I could barely get out the door to school.
Luckily, Stone said she found some relief from her anxiety when she discovered acting. "I started acting at this youth theater, doing improv and sketch comedy," she told Rolling Stone. "You have to be present in improv, and that's the antithesis of anxiety."
She spoke more about how she's learned to manage her anxiety during a 2017 roundtable with other prominent actresses for The Hollywood Reporter. "I'm someone who holds in a lot and gets really nervous to speak," she admitted. But as her career has grown, Stone explained, she's watched that anxiety settle down some. "As time has gone on, it's become incredibly rewarding to take risks, to dare, to not be afraid to make mistakes," she said. "As the most anxious kid you've ever met, my whole life has been defined by, 'Please don't mess up, I can't mess up.' And that's changing, which is incredible."
While it may seem surprising that celebrities struggle with anxiety just like other people do, it probably shouldn't be. According to the Anxiety and Depression Association of America (ADAA), " anxiety disorders are the most common mental illness in the U.S., affecting 40 million adults" — which is about 18 percent of the population — every year. Panic disorders affect six million adults, as per the ADAA, and for both of these mental health issues, the nonprofit organization explains, women are twice as likely to be affected as men are.
If you deal with anxiety yourself, one helpful resource is the National Alliance on Mental Illness (NAMI). Along with a helpline (800-950-NAMI), which even has a texting option, too (text "NAMI" to 741741), the website can help direct you to educational programs and support groups via your local NAMI organization or affiliate. NAMI's online discussion groups might also be a low-pressure way for you to connect with other people who are going through the same struggles as you.
Of course, if your anxiety is getting in the way of your day-to-day life, or if you just want some extra help, it's never a bad idea to reach out to a mental health specialist for professional assistance. In addition to contacting the NAMI helpline, the ADAA has plenty of tools and information to help you find a therapist in your area.
The thing about mental health is that, unfortunately, there's still a rather negative stigma that surrounds the conversation. With that in mind, Emma Stone's willingness to be candid about her own experiences with anxiety is crucial to showing other people that they are not alone in what they're going through. "I am very grateful I didn't know that I had a disorder," she told Dr. Koplewicz during her video interview with the Child Mind Institute. "I wanted to be an actor and there weren't a lot of actors who spoke about having panic attacks."
And while there may still be a long way to go before opening up about mental health is more normalized, Stone's decision to share her stories positions her as an excellent role model — both for the little girl who, like Stone herself, wonders whether her panic attacks mean she can never be an actress, and for the grown woman who feels alone in her everyday anxiety.