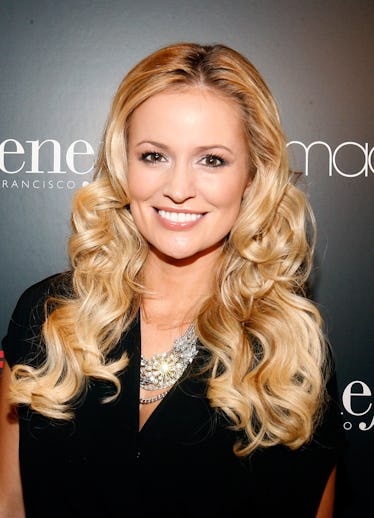 Bachelor' Arie's Ex Emily Maynard Opens Up About Her Regret As 'Bachelorette'
Mike Lawrie/Getty Images Entertainment/Getty Images
It's been 6 years since Emily Maynard was introduced to #BachelorNation on Brad Womack's season of the famed reality competition series. The immediate fan favorite captured the collective hearts of American viewers and went on to become The Bachelorette. While she's long since moved on from the days of stretch limo meet-cutes and televised first dates, that doesn't mean she's done reflecting on her reality TV experience. But Emily Maynard's Bachelorette regret has nothing to do with broken engagements or awkward kisses.
If you've been keeping up with the happenings of The Bachelorverse over time, you probably remember that Emily entered the show back in 2011 as a single mom to young daughter Ricki, who is now 12 years old. Ricki's father and Emily's former fiancé, race car driver Ricky Hendrick, was killed in a plane crash in 2004. Emily learned she was pregnant in the days following his tragic death.
"I wish that I would've kept [the show] totally separate [from Ricki]," Emily recently told PEOPLE's Celeb Parents Get Real. "At the time, I thought, 'This is it,' and I never would've brought her into it had I not thought that."
"So I wish that I maybe would've taken a step back," Emily explained. "Maybe sheltered her from that a little bit more."
Even though the cameras stopped rolling following her Bachelorette stint in 2012, Emily went on to find her fairytale ending without the help of Chris Harrison and the ABC casting department. She met her husband, Tyler Johnson, at church in North Carolina and they reconnected in 2013. "I used to teach a jewelry making class at a middle school that my church adopted and Tyler was one of the coordinators of the program," she wrote on her blog when announcing their engagement.. "Well, every Thursday I could count on him to come help me carry all of my beads out to my car at the end of class. The only problem was he was so good looking that I could barely make eye contact with him, much less have a normal conversation."
"Fast forward a few years (and a few attempts to find love on TV) to our first date and we've been inseparable ever since! I'm so grateful to God for bringing him into our life because he's been the biggest blessing to Ricki and I both," she continued.
The pair married in 2014. They've since had three children in three years — Jennings Tyler, 2, Gibson Kyle, 15 months, and newborn Gatlin Avery.
Of course, Emily's been in the spotlight lately now that former flame Arie Luyendyk, Jr.'s season of The Bachelor is just around the corner. We first met the race car driver when he competed on Emily's season of The Bachelorette. Unfortunately, he went home brokenhearted in the runner-up position when she ultimately decided she was more "confident" in a future with Jef Holm. But don't fret — he'll be in charge of doling out those desirable roses soon enough.
And Arie hasn't exactly remained mum about his past feelings for Emily and how they affected him moving forward. "The last time I was really in love was with Emily," he told PEOPLE. "So I think it's natural to find a wife on the show, because that's the last time I was ready for an engagement." Arie already revealed that he falls in love with two ladies throughout his season, so hopefully he narrowed things down. Is a proposal on the horizon? We'll have to wait until The Bachelor premieres on Jan. 1, 2018 to get more insight. Maybe, like his ex Emily, he'll finally find his very own happily ever after.