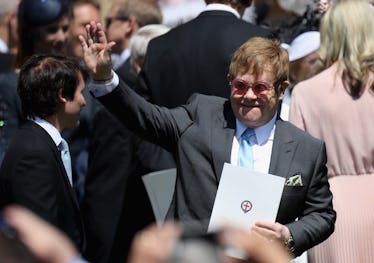 Elton John Dedicated This Song To Meghan Markle During The Reception & I'm Sobbing
Chris Jackson/Getty Images Entertainment/Getty Images
After Prince Harry married Meghan Markle during a star-studded ceremony on Saturday, May 19, the duo headed to their lunchtime wedding reception at St. George's Hall at Windsor Castle where the bride was serenaded by an all-star musician with close ties to the royal family. During the reception, Sir Elton John helped the newlyweds celebrate their first moments of marriage by singing for them in front of their guests, and his meaningful set list is giving me all the feelings. Elton John's performance at the royal wedding reception featured one of his best hit songs, and he dedicated the tear-jerker to Meghan Markle with this sweet line.
In a statement shared on Twitter on Saturday, Kensington Palace confirmed that the "Bennie & The Jets" hitmaker would be performing at the luncheon after being invited by the groom "in recognition of the close connection he has with Prince Harry and his family."
At the reception, which was open to all the guests from the ceremony, the star reportedly ran through a set list featuring his most popular hits, including one that's making me tear up with its reference to "LA lady," Meghan Markle. According to a source from People who is attending the festivities, the Grammy Award-winning musician dedicated one of his most famous songs, "Tiny Dancer," to the bride with the line, "Blue jean baby, LA lady, seamstress for the band" referencing her Hollywood career. Aw.
John — who originally sparked rumors that he was performing at the royal wedding when he rescheduled a concert set for May 19 — has made no secret of his admiration for Prince Harry.
"I first met an extremely shy and sweet Prince Harry at a private lunch at Kensington Palace, given by his mother Princess Diana for Gianni Versace and me many years ago," the 71-year-old memorably recalled after the royal scored a spot on Time's Top 100 list. "What a joy it has been to see that young boy grow to inherit his mother's warmth, sense of humor, and courage to stand up and champion the causes he truly believes in."
The award-winning singer also appeared to sing Markle's praises during a January 2018 interview where he noted how "totally in love" Prince Harry was. "I spent some time with him at Google camp in Sicily last summer and I could tell that he was totally in love," he said on ITV's Lorraine show. "He didn't really discuss much personally, but he said 'I'm in love,' and I thought, good for you."
For Kate Middleton and Prince William fans, he added, ""Both those boys seem to be ecstatically happy, and that's all you want people to be, no matter who they are."
According to Rolling Stone, John also performed "Your Song" (sung by Ellie Goulding at Prince William and Kate Middleton's wedding in 2011), as well as "Circle of Life" from The Lion King, and "I'm Still Standing" during the reception.
John's special performance was a touching tribute to his close friendship with the late Princess Diana. More than two decades ago, the singer memorably honored Prince Harry's mother with a bittersweet serenade of "Candle In the Wind" at her Westminster Abbey funeral on September 6, 1997, according to People. And while the "People's Princess" couldn't be there for Prince Harry's big day, it was clear that she was not forgotten.
During Prince Harry and Meghan Markle's nuptials, sweet details — such as a nod to late Princess Diana's favorite flowers in the bridal bouquet and inspiration in the bride's wedding dress train — proved that the Princess of Wales was definitely in their thoughts during the ceremony. And while I haven't personally seen it (still waiting on that wedding invite, Meghan), it sounds like Sir Elton John's meaningful performance took the homage to her legacy to the next level. I'm not crying, you're crying.