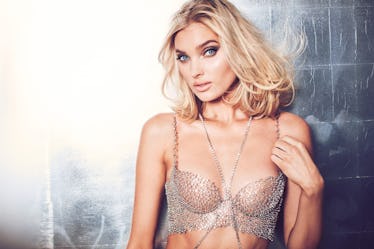 Elsa Hosk Reveals Her First Thoughts On The VS Fantasy Bra, Her Scariest Runway Look, & More — EXCLUSIVE
Angel Elsa Hosk to wear the 2018 Dream Angels Fantasy Bra in the Victoria's Secret Fashion Show (Photo: Courtesy of Victoria's Secret)
If someone told me I'd have the honor of wearing a $1 million bra designed with my taste in mind and specifically to hug my body like a glove, well, I'd laugh in your face. But that's only because I'm not a seasoned Victoria's Secret Angel back for her eighth run in the Victoria's Secret Fashion Show. Yes, as announced early this week, Elsa Hosk will wear the 2018 Victoria's Secret Dream Angels Fantasy Bra in all its mind-bogglingly expensive glory. In honor of this exciting time for Hosk, I sat down with the VS veteran for high tea at The Plaza Hotel to talk her first thoughts upon seeing the Fantasy Bra, her most terrifying runway look, and more.
Now, let's play pretend for a moment. What would your first thought be if 1) you were told you're going to wear the Victoria's Secret Fantasy Bra and 2) you were seeing it for the very first time? If your answer is that your brain would probably barely be able to process what was happening, you and Hosk have that in common.
"I was too shocked that it was the Fantasy Bra to even process what it looked like," Hosk tells me about her immediate thoughts upon seeing the bra. "I think ... my first thought was, 'Holy sh*t, I'm wearing the Fantasy Bra this year!' My second thought was, 'Holy sh*t, it's so beautiful.'"
Honestly? My thoughts exactly upon seeing this stunning, $1 million bra. Designed by Atelier Swarovski for Victoria's Secret, the sterling silver silhouette and body chain is comprised of over 2,000 Swarovski-created diamonds and topaz, according to a press release from the brand. Even more, the bra required more than 930 hours of manpower to create. Seriously, my bra could never.
While wearing a renowned bra worth so much is, of course, a massive honor in the VS world, wouldn't it be nice if the person wearing the bra had a hand in designing their own fantasy bra? Well, for Hosk, the similarities between her own dream bra and this year's Fantasy Bra aren't too far off.
"If I were to design a bra, it would probably look exactly like [the Fantasy Bra.]" she says. This is because, according to Hosk, the bra's designers do consider the wearer's look and interest when developing the concept for the bra. "The crazy thing is, I actually asked someone, 'Do you design these bras and take into consideration the girl's style?" And they were like, 'Yeah, we really look into your personal style and your skin tone.'"
Hosk has certainly earned her spot wearing the Fantasy Bra this year, as the VS Angel has already spent years on the infamous runway, rocking any outfit she was tasked with, whether beautifully elaborate and delicate wings... or even an incredibly heavy creation that actually makes walking the runway, well, pretty damn terrifying. In fact, Hosk recalls the 2016 Victoria's Secret Fashion Show, in which she was actually a little nervous she might not make it all the way down the runway.
"In the Victoria's Secret Show a couple of years ago, I wore a really heavy smiley face ... They had to take out some metal that was inside because it was so heavy," she tells me. "That was scary, because I didn't know if I was gonna fall over or not."
Clearly, being a Victoria's Secret Angel is far from a walk in the park. (No, instead, it's a nerve-racking walk down the runway in sky-high stilettos carrying the weight of a child on your back.) Still, that doesn't mean we all don't dream about strutting our stuff in the show. Hell, even the Kardashians decided to take a stab at being Victoria's Secret Angels for Halloween this year — a costume which gets Hosk's stamp of approval.
"I really liked it," she tells me about their costumes. "I thought they were so cute. They killed it."
While we can't all be Victoria's Secret Angels — nor can we all be the Kardashians pretending to be Victoria's Secret Angels — this year, the lingerie behemoth has made it so that we could have our own 2018 Dream Angels Fantasy Bra if we really wanted it. Starting Thursday, Nov. 29, 2018, shoppers can purchase a less expensive, $250 version of this year's Fantasy Bra, made with Swarovski crystals, in certain VS stores and on the brand's website.
Should you be able to snag a bra in-store on the day of the launch, you'll have more than enough time to take it home and get it ready to wear as you watch the airing of the 2018 Victoria's Secret Fashion Show on Sunday, Dec. 2, 2018, at 10 p.m. ET on ABC.