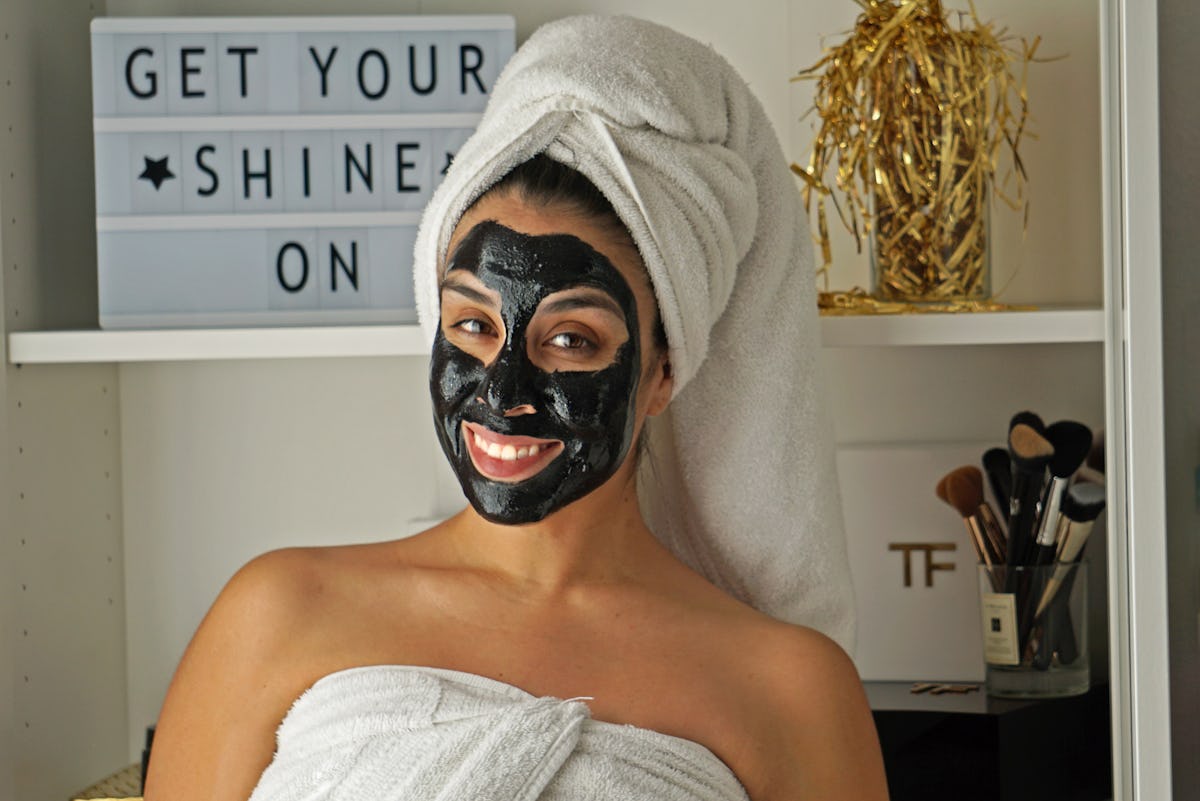 E.L.F. Just Launched An $8 Peel-Off Glitter Mask, If You Love Sparkle But Also Hate Messes
STEPHANIE MONTES
Just months ago, we all freaked because alas, a glitter face mask had finally been invented, but now it seems there's a new one almost every week. However, the latest to hit the market is just as KiraKira worthy, but costs so much less. E.L.F.'s Peel-Off Glitter Mask is the latest sparkly option in skincare, and it only costs $8. **Insert praying-hands emoji here.**
Before I get too ahead of myself, let's start at the beginning. Last November, Too Faced launched a sparkling peel-off face mask loaded with holographic pink glitter. It was cleverly named "Glow Job" and made for great Instagrams and even better punny captions. However, the price of Too Faced's Radiant-Boosting Glitter Face Mask is just as flashy as the contents of the jar. Under two ounces of the product costs $42 — not that a price tag can hold back a true beauty junkie.
Then in December, GlamGlow launched a similar mask packed with huge shards of glitter in the shape of stars. Instagram was rampant with slow-motion swatches and super-sparkly videos of people peeling it off their faces. Even I, a seasoned beauty editor, was completely mindblown. And while the #Glittermask Gravitymud Firming Treatment ($69; sephora.com) is packed with licorice and marshmallow leaf, the glitter is purely aesthetic, but I am 100 percent okay with that.
GlamGlow #Glittermask Gravitymud Firming Treatment, $69, Sephora
Then, a third landed on my desk. I Dew Care — the Korean beauty brand with a lineup of super cute skincare and equally precious product names — sent me a few of their newest face masks. To my delight, one was the darkest shade of black and packed with halographic silver glitter. Though it's not available yet (chill, it's coming February 1) I got to try it out and I'm dying because this is the first glitter mask I've ever tried.
First thing I notice about I Dew Care's Space Kitten Exfoliating Galactic Black Peel-Off Mask is the smell. Surprisingly it smells clean and floral. I'm not sure what I was expecting, but the scent doesn't match the gooey tar-looking texture. It's incredibly sticky. I freak out when I get some on my eyebrows. Is it going to pull my facial hair off?
I let it sit for the recommended 20 minutes, and I noticed that the entire time it felt cold. Weird. I was too impatient, so I started picking at the edges. After a got about an inch of mask off of my forehead, I touched my skin to see if I noticed a different. OMG, it was so smooth!
The formula is packed with charcoal to absorb oils, sapphire powder (you fancy, huh?) to brighten and exfoliate, and volcanic ash to deep clean pores. Again, the glitter does absolutely nothing, but it's not completely useless, it does look cool. While, it's not as in-your-face as GlamGlow's version, I kind of love it. And no, it didn't rip out my peach fuzz!
Finally, the latest to hit the glitter skincare space is one that I'm personally super excited about. E.L.F. has been my go-to for affordable products since I was a starving college student. These days they're much more than just a cheap makeup brand — they're constantly stepping it up and staying competitive with luxury brands. From their packaging to the skincare ingredients and new innovations (all at prices that don't make us have to prioritize beauty or brunch), E.L.F. holds valuable real estate on my personal beauty shelves and probably will forever.
Last year, E.L.F. launched a $24 magnet mask that rivaled a $75 option.
Newly launched, E.L.F.'s Pore Refining Glitter Peel-Off Mask ($8, elfcosmetics.com) is packed with witch hazel, lavender, and charcoal, which function like a magnet to remove dirt and oil, and reduce the appearance of pores.
Pore Refining Glitter Peel-Off Mask, $8, E.L.F. Cosmetics
If you were intrigued by the mystical masks but refused to shell out a week's worth of lunch money for a single jar, the glitter gods heard your prayers.
Pore Refining Glitter Peel-Off Mask, $8, E.L.F. Cosmetics
Though it's more of a shimmer (like I Dew Care's version above), thanks to E.L.F., now you won't have to forgo slathering on some sparkle in favor of paying rent.