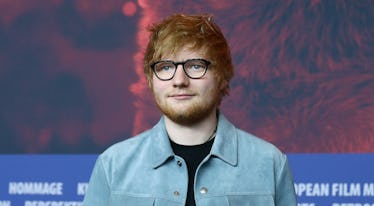 Ed Sheeran Is Playing Himself In A Major Movie With Lily James & Kate McKinnon
Thomas Niedermueller/Getty Images
Lady Gaga's acting star is about to be born, and Ed Sheeran is looking to be the next major pop star to jump into the acting game. The singer has just been cast in his first big acting role in a major motion picture, and he is ready to do even more after this. Ed Sheeran is acting in a Beatles movie due out next year, and his role will be very close to home.
Ed Sheeran opened up about his big movie role at an Apple Music event this week, confirming that he is part of the main cast of director Danny Boyle's upcoming big-screen musical comedy. The currently-untitled movie will center on a man named Jack Malik, played by English actor Himesh Patel, who comes to realize that he is the only person in the world who remembers the Beatles. Apparently, this knowledge leads him to great musical success, even being discovered by none other than Ed Sheeran himself. Yep — Ed Sheeran confirmed that he will be playing himself in the upcoming movie, which will follow Sheeran on tour as Jack joins Sheeran's tour and eventually becomes even more famous than Sheeran. The movie also costars Mamma Mia! Here We Go Again breakout Lily James, Saturday Night Live standout Kate McKinnon, and New Girl star Lamorne Morris. Sheeran is also rumored to be penning new music for the movie.
Although he is playing himself, Ed Sheeran said that he did really learn how to act for this role, and that it is much bigger and more demanding than his previous acting parts. Sheeran has had notable guest appearances on sprawling TV dramas Game of Thrones and The Bastard Executioner before, but he said that those quick acting jobs were nothing compared to taking a lead role in a movie:
I got to actually kind of learn how to act. … With the Game of Thrones thing, that was literally me popping in for a day and making a cameo. Or Bastard Executioner was me popping in for a day. But this was like full days on set, like full 12-hour days.
He went on to share that although he does not see himself going for roles in blockbuster action movies or anything like that, Sheeran would be interested in more acting that has music involved. He said that his biggest inspiration in movie roles is the 2007 musical romance Once:
I want to make something like [Once]. Something like that where songs dictate the film in a way. I can't see myself playing an Avenger, you know? I don't really want to be actor.
Although Ed Sheeran said he does not really want to be an actor, there are a lot more movie musicals come to the forefront of film these days, especially considering the success of last year's La La Land and the excitement surrounding A Star Is Born. Maybe we will get to see Sheeran follow through on his dream to create a big movie musical in the vein of Once soon enough. Until then, fans can look forward to this untitled Beatles movie, which is due out sometime in 2019.