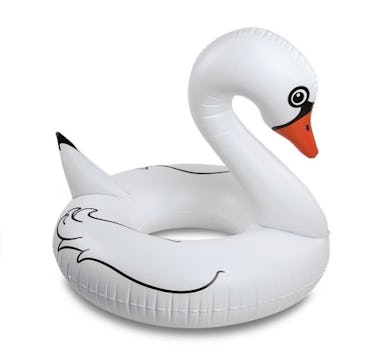 Here's How To Make A Swan Pool Float Costume That'll Make Your Halloween So Basic
If your least favorite part about fall is that summer is over, then I have the perfect throwback Halloween costume for you. It's one that will bring back memories of long, sunny days spent poolside with your besties. It'll probably also get you some creativity points at your Halloween party when you show up in your easy swan pool float costume.
I am all for a the-simpler-the-better philosophy when it comes to making a Halloween costume. Sewing together an elaborate getup was so much easier when your mom was the seamstress. Lucky for you, the swan float costume can literally be as easy as buying a swan float.
Keep It Simple
I get it, sometimes you're willing to put a lot of effort into a costume. And sometimes, it's five minutes before you have to leave for a party, and you just need to get into a costume. That's where the genius of the swan float costume comes into play.
Grab your deflated summer swan (you can find one online at Target), pump it up with some air (I recommend an air pump unless you want show up sweaty and out of breath to the party), and you're set. Of course, you can complement it with a coordinated dress (like this one) or leggings. If you're not into the idea of holding your swan all night, you can hot glue some sturdy ribbon (also found on Amazon) to act as straps.
Pro-tip: make sure you apply the hot glue to the ribbon first, and then press it to the swan.
Swan Float Costume Sans Float
If you're a purist and only break out your swan float in the summer, you can still recreate the look for this year's Halloween costume. You won't even have to go any further than your makeup bag. This tutorial by YouTuber "pixiwoo" will give you a great guide to recreate the eyes of the swan float.
Orange Face Paint, $7, Amazon | White Striped Dress, $23, Amazon
It's slightly of the Black Swan style, but the dramatic eyes fit well for the float as well. Pair it with an orange nose and pout (you can find orange face paint on Amazon), and there will be no doubt about what summer trend you are. Finish it off with a black-and-white striped dress (found on Amazon) to really solidify your swan float style.
Masks Over Makeup
If you're like me and your makeup skills leave something to be desired, then you can take a shortcut and achieve a similar result with a swan mask. You could probably make your own, but you can also buy the perfect mask for your swan pool float costume on Etsy. This beautiful mask from LiddyMaeMasquerade will cost you $60, but it will make sure you set yourself apart from any other pool float costumes at the party.
If you're looking for a mask that is a little more budget-friendly, look no further than this version from the UK-based Silly Jokes party shop. It costs £3.25, which is just less than $4 U.S. dollars. Just make sure to order ASAP so you get it in time for Halloween.
White T-Shirt Dress, $19, Amazon
Now, the float is mainly white, so if you want to stay in total Swan-Pool-Float character, you can try this white T-shirt dress from Amazon. If you're not really feeling an all-white ensemble, you can opt for one of the dresses from the other two costumes.
So, even though summer is way in the rearview mirror now, you can use the expertise you gained from those all-day pool parties to make sure your costume is on point this Halloween.
Check out the entire Gen Why series and other videos on Facebook and the Bustle app across Apple TV, Roku, and Amazon Fire TV.