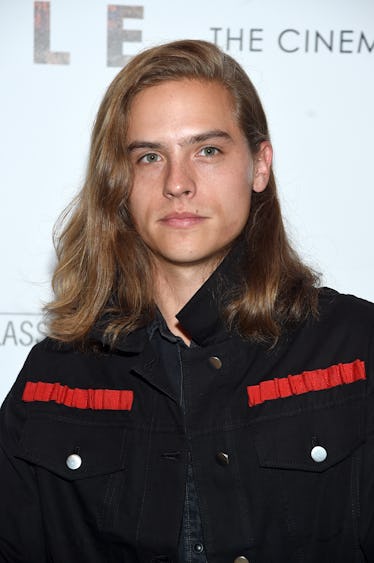 Dylan Sprouse Chopped Off His Long Hair, So He's Basically Zack From 'Suite Life' Again
Jamie McCarthy/Getty Images Entertainment/Getty Images
It's not every day that a celeb known for his gorgeous head of long, golden hair goes and chops it all off. But now Dylan Sprouse — twin brother of Riverdale's Cole Sprouse and one-half of the pair formerly known as Suite Life's Zack and Cody Martin — has gone and done just that. The pair just celebrated their 26th birthdays on August 4, and in honor of the big occasion, Dylan Sprouse cut off all his long hair. You heard me. This is not a drill — the man has cut off all of his flowy, beachy waves. But TBH, Dylan Sprouse's new short hair is actually straight fire and I am totally here for it.
Over the last few years, Sprouse has been known for his signature long, flowy golden locks, which gave him a distinct Brad-Pitt-in-Legends-Of-The-Fall vibe. He first rocked the abbreviated style at the Overwatch League Grand Finals on Saturday, July 28. But since Sprouse was also wearing a hat, it was hard to tell exactly what was going on underneath. Like, it looks like his hair has been cut, but it could also just be pulled back into a low man bun or whatever, you know what I'm saying?
He also shared a video on his Instagram story of himself wearing the same hat on August 5. And again, it was sort of a mystery what was going on underneath.
Take a look:
But lucky for us, Sprouse's rumored girlfriend, Hungarian model Barbara Palvin, hit up her Instagram feed in honor of her rumored BF's birthday, and in her post we get to see the former Disney Channel star's new look in all of it's shorn and tousled glory.
OMG, you guys, he looks so good and he's giving me so many Suite Life of Zack & Cody feels that I'm just gonna go ahead and ignore that unlit cigarette in his hand.
"Even though it's your birthday I feel I just got the biggest present of all," Barbara captioned her pic. "Happy birthday Boss Baby." It's not clear if she was talking about Sprouse or his haircut. But since she also posted this cute shot on her Instagram story, I'm gonna guess it was the former:
They make a pretty cute couple, dontcha think? So which look are you digging better? While I really do tend to love long hair, I just think Sprouse is killing it with his new shorter style, although I guess he won't be having any more "hair competitions" with Palvin, like the one he detailed in another Instagram story while attending a screening for the movie Puzzle in New York City on July 24.
I mean, those long, beachy waves do look totally effortless so I'm gonna go ahead and give him my vote.
Meanwhile, there's been no word yet from Cole Sprouse re: his bro's new look. But if the past is any indication, we just know he will have a few choice words.
And then Dylan will have some type of epic comeback.
I don't know about you guys, but I seriously can't wait to watch it all go down.