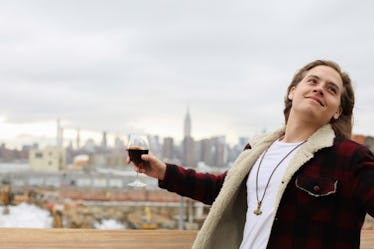 Dylan Sprouse Is Living His Best Life With An Off-Screen Career You'd Never Expect
Dylan Sprouse is a household name — and when you hear it, you might think about Zack and Cody causing mischief around the Tipton Hotel. It's no surprise that Sprouse is widely known for his acting career, but you probably don't know about his current job. Believe it or not, the 25-year-old entrepreneur runs his own business, and he's entertaining fans in a totally different way. Sprouse is the CEO of All-Wise, a meadery located in Brooklyn, New York. There aren't any lights, cameras, or scripts at his workplace, though; it's just him and his two-person team. In order to find out more about Sprouse's new job, I stopped by to chat over a glass of mead, an alcoholic beverage made by fermenting honey and water.
When I walk into All-Wise, Sprouse is sitting in a chair beside his brewing tanks, and I'm surprised at how low-key he is. After shaking hands, he takes me on a quick tour through the two-story meadery, and then pours me two glasses of the mead he created. One is his Show Mead, and the other is his Oolong Mead. Sprouse's Show Mead is a dry honey wine made with honey aged in oak, while the latter is a dry honey wine made with fermented oolong tea and unfiltered honey.
Right off the bat, it's obvious that Sprouse is passionate about his products at All-Wise. "You know, mead, in particular, has a special place in my heart," he says.
Apparently, Sprouse has been in love with it since he began brewing mead when he was only 16 years old.
"I, like most 16-year-olds, wanted to try drinking — but couldn't buy it," he says. "My father has a very European mindset on alcohol. He bought me a brew set when I was 16, with the intent to say, 'Look, you can brew this, and taste a little bit, but the rest is mine.' I enjoyed myself... enough to get to this point. So I kept that up."
Sprouse continued brewing mead throughout his college years, and even broke some rules in the process. He tells me he brewed inside his dorm room closet at New York University, which was obviously not allowed. He says, "I did it in my dorm room, very sneakily. I had one roommate who knew I was doing it. I also was living with my RA, who did not know I was doing it." Sprouse continued, "He was studying to be a doctor, so he was a very busy guy that didn't spend much time in the dorm."
Believe it or not, it was his dorm room brewing sessions that made Sprouse realize what he really loved to do. He tells me, "The thing is, during college, I studied a lot of different things. I realized upon graduating that what I really liked to do was right in front of me the whole time. It was sitting inside my closet."
Fast forward three years and Sprouse is running his own meadery. Now that's what I call chasing a dream.
Brewing, for me, always is sitting alongside acting. And acting is subsequently sitting alongside brewing. I need both to be myself.
Sprouse is the CEO and mazer at All-Wise, which means he creates the mead flavors and heads the brewing process. He works alongside a team of two, which includes Doug Brochu, who heads Brewing Operations, and Matt Kwan, who deals with the company's finances. The team has been working together at All-Wise since the spring of 2018, and Sprouse has no plans of stopping.
"My long term goals right now are to, you know, grow the business, obviously. First and foremost is to build out our bar downstairs," he says, referring to a taproom that will eventually be attached to the meadery to serve All-Wise mead to the public. Sprouse continues, "But I think just to make more interesting batches. The longest term goal is to just make mead more of a household name."
Sprouse has his plate full, but he tries to find a balance between brewing and acting. For the past six months or so, he's been in China filming an upcoming movie called Turandot. Finding time to brew while he was abroad was somewhat of a challenge. "I was there doing that for six months, and there's a balance you need to strive for," he tells me. "Brewing, for me, always is sitting alongside acting. And acting, is subsequently sitting alongside brewing. I need both to be myself."
Finding balance isn't impossible, though. Sprouse finds ways to make the two careers intertwine, and tells me that he did something special for his coworkers on Turandot when they were done filming. "I brewed a batch of mead as a wrap gift for the Turandot cast," he says. "I'm always thinking about [brewing mead]; I'm always doing it."
Although brewing and acting are different jobs, Sprouse believes that both are considered "entertaining." He tells me, "As weird as it sounds, both are an art form, and both are an expression. I know I like to entertain. Brewing is entertaining."
He continues, "Acting is entertaining. Brewing, for me, is the most direct form of an artist seeing his audience participate. 'Cause when I hand you that, and you drink what I've made, I'm seeing you have a physical reaction to what I'm doing — which is something that all artists yearn for: to see their work affect people."
"It's why I love to brew. So it's never been too difficult to balance those two," Sprouse says. "Our business partners and I, we set up this company with the understanding that [the entertainer] was partly my role to keep. I am the 'artist' in this group."
It's obvious that Sprouse is aware of his popularity in the entertainment industry, so I ask him if fans often stop by the meadery. Apparently, they've come "every day so far." He says, "If they're 21, I let them in for a tasting (after an ID check). But I just talk to them. I mean, the truth is that I'm here a lot during the day, and there's plenty of time to talk to everybody. If they want to chat about this and other things, I'm completely open to that."
Sprouse's main hope is to educate fans about his mead, because "no one knows about it, really." He says, "My whole hope is that people want to chat with me and also learn more about this product, 'cause I love this product."
Fans aren't the only people who stop by All-Wise, though. Sprouse's brother, Cole, also makes an appearance when he can. Cole is often in Vancouver, Canada, filming Season 3 of Riverdale, and the twins don't see each other as much as they'd like. However, they call each other every day.
When Cole does visit All-Wise, he always tastes his brother's new batches of mead. Sprouse says, "He likes our mead a lot, I'll tell you that. I think he has Stockholm syndrome when it comes to our mead, because he's tasted the worst of it."
Sprouse isn't exaggerating. He says, "Like when I was making the dog sh*t version back when we were 16, he tasted it. So now, every time he comes in, he's like 'OMG, this is the best batch you've ever made!' Of course, it's just getting better and better."
When it comes to serving his mead to others, Sprouse has an open mind. He says, "Truth is, as the brewer, I don't give a f*ck. I want people to enjoy the product however they like it."
Sprouse hopes to distribute his mead to bars in the near future, because not too many establishments serve it yet. In fact, when he's at a bar that doesn't serve mead, Sprouse has a few different favorites. "My go-to drinks besides that are usually pilsner beers, and light, crisp, refreshing drinks. Other than that, I'm a bourbon guy. I like bourbon," he says.
However, when it comes to his favorite choice out of the meads at All-Wise, Sprouse doesn't discriminate. "I like all of my mead. I'm not playing favorites here."
If Sprouse's endeavors have inspired you to start open your own brewery, he suggests starting with mead. He states, "A lot of homebrewers are recommended to start with mead, because it's pretty hard to f*ck up."
If you go down Sprouse's career path, you'll also have to think of a name for your establishment. While explaining the meaning of the name All-Wise, Sprouse says it's "kind of stupidly pretentious."
"First off, I think when we brew, there's never perfection. From my understanding, there's no tip of the pyramid, you never get to the top," he says. "Naming it All-Wise was an effort to become more wise about this process — aware that we're not."
He also explained a different meaning behind the name, describing it as "instigatory." Sprouse says, "If people who didn't understand that meaning would read this, they'd be like, 'Well that's kind of a bold claim.' And in truth, it is. And that's an effort for people to be like, 'Thats a bold claim, I better taste it and find out!' By that time, the deed is kind of done."
Sprouse continues: "Then, my mission is complete, which is to get more people to try mead — even if they're not crazy about it." In other words, if the name All-Wise inspires people to try his product, Sprouse's job is done.
Just because Sprouse has his hands full at All-Wise doesn't mean he isn't moving forward with other goals. He tells me that "offers are on the table," and "discussions are being had" regarding his acting career. Sprouse also hopes to work on future projects that he's written himself, which is no surprise coming from such an accomplished entrepreneur.
Still, Sprouse plans on staying local for as long as he can so he can work on All-Wise. He says, "I told my team that I just wanna focus on the meadery now that I'm back. Six months is a long time away. I was away in China for quite a bit. So I told them for at least a month and a half, I wanna not work on anything but the meadery."
Keep an eye out for Sprouse's next debut on the big screen, and make sure you're drinking a glass of All-Wise mead while you're watching.