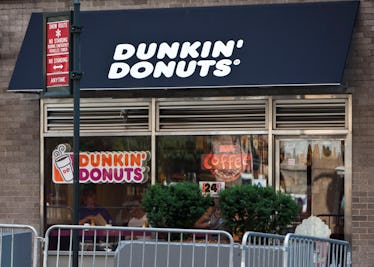 You Can Get A $2 Cappuccino From Dunkin' Until Dec. 30 To Warm You Up
Ramin Talaie/Getty Images News/Getty Images
The holiday season is one of the best times of the year, IMO. But, it can also be one of the busiest times of the year. There are holiday parties to attend, work projects to button up before the new year, and shopping and decorating to get done. Through it all, I need some extra caffeine to keep me powered up all day long. Luckily, Dunkin' is coming through with an amazing deal this holiday season. Dunkin' Donuts' December deals have $2 espresso drinks for a cheerful afternoon sip.
From now until Sunday, Dec. 30, Dunkin' is serving up $2 espresso drinks for all customers. I know, this deal has totally come at the right time. I need all of the extra coffee I can get during this time of the year. Dunkin' December deals are only available during from 2 p.m. to 6 p.m. local time at participating Dunkin' stores nationwide, according to the coffee and doughnut shop. This is perfect for when you are trying to fight that midday slump. So, what's included in the deal? The offer applies to any medium-sized cappuccino or latte beverage that Dunkin' offers. Most of us are feeling the chill in the air, so ordering a hot drink is probably going to be the way to go. But if you live in a part of the country that hasn't cooled down much yet, you can get your $2 cappuccino or latte on ice.
What else is new? Dunkin' is brewing up a brand new version of its usual espresso. If you haven't tried it yet, I suggest you swing by Dunkin' this afternoon and have a sip for yourself. According to Dunkin', the new handcrafted espresso features a "stronger and more robust profile" that is made in top-of-the-line espresso machines. I love a good cup of strong and bold espresso.
Along with a new espresso blend, Dunkin' is also rolling out two holiday drink flavors including Winter White Chocolate and Cinnamon Sticky Bun, according to a release from the company. You might remember the Winter White Chocolate flavor from last holiday season. So, what can you order using these two delicious flavors? Anything, really. The Dunkin' menu lets you customize just about any drink, including lattes and cappuccinos. That means you could order a medium-sized Cinnamon Sticky Bun Latte or a Winter White Chocolate Cappuccino for just $2 during Dunkin's December Happy Hour promotion. Yes, please.
Dunkin' is just a month away from dropping the "Donuts" part of their iconic name, according to a press release from the company. Starting sometime in Jan. 2019, the doughnut and coffee shop chain will only be known as "Dunkin'." The company will still rock the signature pink and orange coloring that was first introduced in 1973, but the name will be different. It's all an effort to grow and modernize the Dunkin' brand, according to Dunkin' Brands CEO David Hoffmann. If you are still having some feelings about the impending name change, you aren't alone.
Dunkin's $2 cappuccino and latte drink promotion happening now, and it is really making my spirits bright this holiday season. While you are out there blazing the whirlwind of this time of year, stop by Dunkin' until Sunday, Dec. 30 to get your next medium-sized espresso drink for just a couple bucks.