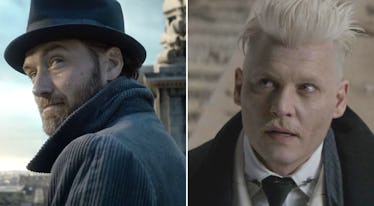 Dumbledore & Grindelwald Have No Scenes Together In 'Fantastic Beasts 2' & I'm Confused
Warner Bros.
It sounds like Harry Potter fans are just going to have to keep on waiting to finally see Albus Dumbledore and Gellert Grindelwald's relationship on the big screen, because it is not a part of Fantastic Beasts: The Crimes of Grindelwald. Ever since Dumbledore's relationship with Grindelwald was mentioned in Harry Potter and the Deathly Hallows back in 2007 (and subsequently in big-screen adaptations in 2010 and 2011), fans have been hungry for more details about what really went on between the two master wizards. But alas, Dumbledore and Grindelwald have no scenes together in Fantastic Beasts 2, as Jude Law just confirmed in an interview with Entertainment Weekly.
Jude Law, who will be playing a younger version of Albus Dumbledore in Fantastic Beasts: The Crimes of Grindelwald, explained that fans will not be seeing Dumbledore and Grindewald together at all in the upcoming sequel. He said he has no scenes with Johnny Depp (and has actually never even seen him on the set), but does tease that the relationship will be explored in future Fantastic Beasts movies:
I don't actually have any scenes with Johnny. As I said before, this is only Part 2 of a longer story. I've always admired him from afar, but we don't know each other, and I've not yet met him on this. In many ways that suits the relationship as it's been many years since they've seen each other. So there's complexity in that that's fun to mine. Again, the past will reveal itself.
There has been some controversy among fans about how Dumbledore and Grindelwald's relationship will be portrayed in Fantastic Beasts: The Crimes of Grindelwald for several months now. Back in January, director David Yates stated that the new movie would "not explicitly" reference Dumbledore's sexuality. This came as a shock to many fans, since Dumbledore's relationship with Grindelwald is one of the most well-known facets of his early life.
It is now common knowledge among fans that J.K. Rowling confirmed Albus Dumbledore was gay and had fallen in love with Grindelwald when the two wizards were teenagers. The two would soon after have a falling out after Grindelwald became corrupted by evil, leading up to Dumbledore defeating Grindelwald in an epic battle and sending him to prison. According to Harry Potter lore, the battle between Dumbledore and Grindelwald occurred in 1945, and the new Fantastic Beasts movie will pick up directly after the events of the first one, in 1926. So, yeah... I guess we still have some time to go before the Dumbledore and Grindelwald face-off that we're all waiting for.
In the new interview, Jude Law also addressed this question about Dumbledore and Grindelwald's relationship being absent from the new movie. He emphasized that the purpose of his role in this movie is to introduce Albus Dumbledore at this stage in his life to fans, and hinted that later movies will delve into his sexuality and past with Grindelwald: "You're just getting to know Albus in this film, and there's obviously a lot more to come. We learn a little about his past in the beginning of this film, and characters and their relationships will unfold naturally which I'm excited to reveal. But we're not going to reveal everything all at once."
There will still be another three movies within the Fantastic Beasts franchise following The Crimes of Grindelwald, so there is still ample opportunity to explore Dumbledore and Grindelwald's relationship in depth as the saga continues. Fantastic Beasts: The Crimes of Grindelwald will fly into theaters on Nov. 16.