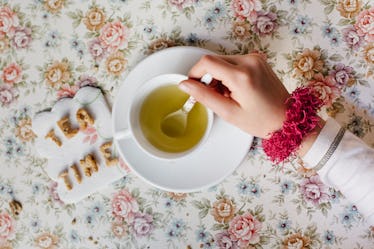 6 Reasons To Drink Tea Instead Of Coffee Before Your Next Workout
I'm a coffee gal, through and through. I love it, and even though it's been low-key suggested by doctors that I cut my consumption down (and eventually entirely out), I'm still at the point in my journey where you'd have to pry my French press from my cold, dead hands. That being said, coffee definitely gives me the jitters, and I almost always have trouble sleeping, so the reasons to, say, start drinking tea instead of coffee seem to be piling up by the minute. One such reason is that drinking tea before a workout is said to help give you a boost of energy when you're feeling less than ready to get sweaty.
Coffee tends to get a pretty bad rap, so before we throw it under the bus entirely, let's acknowledge that there are actually many health benefits to drinking coffee, like promoting heart health, reducing the risk of Parkinson's and liver disease, and the bev happens to be seriously high in antioxidants. Plus, you know, it just tastes freaking divine.
That said, coffee can be hard on your stomach, can cause restlessness and anxiety, and it increases your heart rate, sometimes to a fault.
Enter tea, which still provides that jolt of energy, but oftentimes without the jitters, partially because a single serving doesn't usually have as much caffeine as coffee. And, as Christopher Ochner, PhD, a nutritional research scientist at the Icahn School of Medicine at Mount Sinai Hospital, told WedMD, "it's the healthiest thing I can think of to drink." That's a pretty big compliment for a beverage, don't you think?
All that said, here are a few reasons to swap your coffee for tea the next time you're preparing for a sweat sesh.