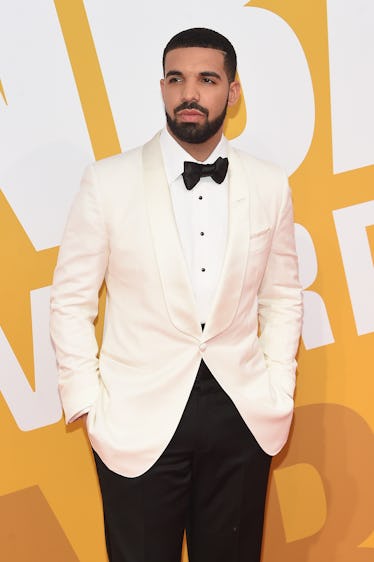 Drake's 'Scorpion' Album Trailer Is Not What You Expected Because It's Creepy As Hell
Jamie McCarthy/Getty Images Entertainment/Getty Images
Alright, folks. Drake is on the verge of releasing all-new music. His new album is due out on Friday, June 29, and the rapper just couldn't wait to give his fans a preview of what's to come. And that's all fine and great... except for one thing: Drake's Scorpion album trailer is way too creepy for a lot of people.
The short album trailer, which Drake posted to Instagram on June 25, shows the rapper aimlessly wandering around various settings, from a lake front house to a recording studio. We also see him driving and cutting a track (presumably for the album).
But what's really got people talking is how utterly dystopian and almost apocalyptic the video is. As I mentioned, Drake is basically wandering aimlessly. There's no one else around — no one to wander with him, no one to share in his aimless drive, no one supervising his recording session. It's just him and a bunch of empty sets.
To top it all off, the video is set to some incredibly eerie music by Moderat. Lots of people have noticed that the track sounds strikingly similar to the main theme for the Natalie Portman film Annihilation. And honestly, Drake's album trailer could double as B-roll for the film, too. It's just that creepy.
Here's a peek at Drake's Scorpion album trailer:
For comparison, here's a look at the trailer for Annihilation:
There's definitely some similarities in tone and musical choice. So, is that what Drake is going for? Is Scorpion just going to be this weird and creepy album with unexpected twists and turns? I don't know, but it sure seems like it.
The album title itself gives off a creepy vibe.
On top of the weird trailer video posted to Instagram, Drake fans have been spotting very mysterious Scorpion billboards in various places. Here's a look at some photos for reference:
The billboards have been seen in Toronto and Los Angeles, giving fans reason to pause and wonder what they're all about. What's even more interesting is that the billboards feature some phrases that could be interpreted in a bunch of different ways.
The billboards say things like, "Changing From Boy to a Man," "I Just Flipped a Switch," "Don't Hit Me When You Hear This," "God Has a Plan," and "Elevate."
Drake is obviously looking for a fresh start. It seems like this a period of time when he's changing, growing, and trying to elevate himself. I wonder what it all means.
Overall, though, this new era for Drake seems to be all about mystery, intrigue, and just all-around weirdness. I don't think the fans are really feeling it.
This guy is definitely not looking forward to it:
Neither is this person:
But this fan is all about the new album and can't wait:
Like me, this person also thinks the whole Scorpion marketing ploy is really bizarre:
And this fan just thinks Drake's Annihilation reference means something more than the rapper is letting on:
Other people just have questions about who's featured on the album:
Those are actually great questions and ones that likely won't be answered until June 29. Whatever's going on with Drake and his new music, it's clear he's going through some kind of metamorphosis. One thing's for sure: he didn't choose the title Scorpion for no reason. Scorpions are known to be focused, brave, and fearless. They're also highly secretive. So, this mysterious effort to promote the new album falls right in line with the scorpion imagery.
I'm sure the album is going to be amazing.