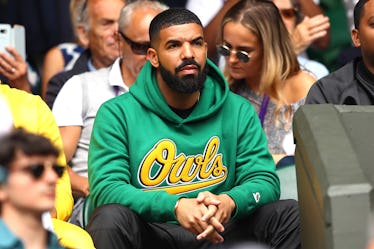 Drake Says He Has "Unconditional Love" For His Son's Mother, But It's Complicated
Michael Steele/Getty Images Entertainment/Getty Images
For those of you who missed the most monumental moment of my life as a Drake fan, the world found out this past summer that Drake has a child. Yep, that's right. Drake, the man behind pretty much every song I shared a dance floor makeout to in college, is a father. And, recently, Drake's quotes about Sophie Brussaux (the mother of his one-year-old son, Adonis) give us an unprecedented glimpse into what his life as a father is really like.
After rumors that he had a "secret" child, Drake, 31, confirmed he is, in fact, a father. He opened up about having a child with Brussaux, an adult film star, on his latest album Scorpion.
In the song, 'Emotionless,' he sang:
I wasn't hiding my kid from the world/I was hiding the world from my kid. Breakin' news in my life I don't run to the blogs/ The only ones I wanna tell are the ones I can call. I had to come to terms with the fact that it's not a maybe. That s*** is in stone, sealed and signed. She's not my lover like Billie Jean, but the kid is mine. S***, we only met two times.
In 'March 14,' he sang:
Single father, I hate when I hear it. I challenged my parents on every album, now I'm embarrassed to tell them I'm a co-parent. Always promised a family unit. I wanted it to be different because I've been through it.
Since the release of the album, the rapper hasn't said much else about his child. But on the Oct. 12 episode of LeBron James' show The Shop, that changed. He got super open, talking about how "excited" he is about being a dad and, additionally, how nervous he was to tell his mom when he found out about his future child. "It was tough for me to tell her it was with someone she'd never met," he admitted, explaining that his mom has had personal relationships with other women he's dated in the past.
"I am a single father learning to communicate with a woman who, you know, we've had our moments," he continued. "I do want to be able to explain to my son what happened, but I don't have any desire for him to not love his mother. I don't ever want the world to be angry at his mother. We have found ourselves in a situation and we are both equally responsible."
"And now I'm just really excited to be a great father, I have a son," he continued as he adorably pulled up pictures of his son on his phone to show the other men. "He's a beautiful boy. He's got crazy blue eyes. No matter what happens, I have unconditional love for the mother of my child because I want him to love his mother, and I have to project that energy."
Here's to wishing Drake, Brussaux, and their son a lifetime of happiness.
Check out the entire Gen Why series and other videos on Facebook and the Bustle app across Apple TV, Roku, and Amazon Fire TV.
Check out the "Best of Elite Daily" stream in the Bustle App for more stories just like this!