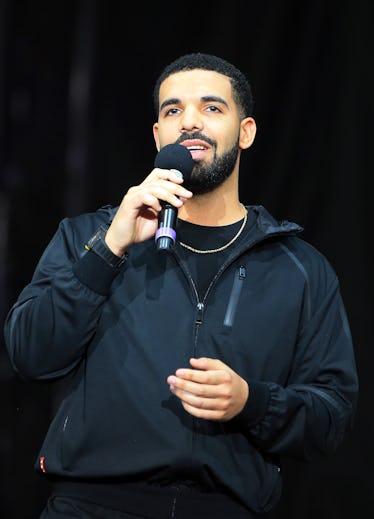 Drake Confirmed He Has A Son On His New Song "March 14" & The Lyrics Get Super Personal
Vaughn Ridley/Getty Images Sport/Getty Images
Wow. Just wow, wow, wow. Drake finally dropped his album Scorpion — and also dropped a major truth bomb along with it. We're talking revelatory new information, and yes, it has to do with Pusha-T's diss track, "The Story of Adidon," claiming that Drake was hiding a child. Well, one of the songs off the new album is finally bringing the truth to light. Yep, Drake's "March 14" lyrics confirm he has a son, so we can all freak out accordingly now. Elite Daily reached out to Drake's team for clarification about his lyrics, but did not hear back by the time of publication.
If you haven't been ~in the know~ about Drake and Pusha-T's most recent beef, it all went down on May 29, when Pusha-T released a new track called "The Story of Adidon," which calls out Drake and states very frankly that he is hiding a child. In May of 2017, there were reports that the rapper did have a child that he's kept hidden from the public with reportedly with a woman named Sophie Brussaux. Elite Daily reached out to Drake's team for comment on this report but did not hear back by the time of publication.
The lyrics of "The Story of Adidon" point the finger directly at Brussaux as the mother of Drake's son on the track:
Sophie knows better, ask your baby mother. Cleaned her up for IG, but the stench is on her. A baby's involved, it's deeper than rap. We talkin' character, let me keep with the facts. You are hiding a child, let that boy come home. Deadbeat mothaf*cka, playin' border patrol, ooh. Adonis is your son, and he deserves more than an Adidas press run, that's real. Love that baby, respect that girl. Forget she's a porn star, let her be your world.
It was... a lot to take in, to say the least, but we never got any real confirmation from Drake regarding the allegation.
Until now, of course.
With the release of Scorpion, we're seeing lyric after lyric from Drake basically confirming that he has a son. We're hearing it in the Mariah Carey-sampling song "Emotionless," where he raps:
Look at the way we live / I wasn't hiding my kid from the world/ I was hiding the world from my kid / From empty souls who just wake up and looked to debate / Until you starin' at your seed, you can never relate
We hear references to his son once more on "8 Out of 10," where he raps:
Never a matter of could I or should I / Kiss my son on the forehead, then kiss your ass goodbye / As luck would have it / I've settled into my role as the good guy
But most of all, we hear it on "March 14," where Drake opens up about the struggles of co-parenting, and references Michael Jackson's hit song, "Billie Jean," where Jackson sings, "The kid is not my son." Only Drake turns the classic lyric on its head and raps that the kid is his.
Yup. Mind is officially blown.
The first verse of Drake's "March 14" begins:
Yesterday morning was crazy, I had to come to terms with the fact that it's not a maybe / That sh*t is in stone, sealed and signed / She not my lover like Billie Jean, but the kid is mine / Sandi used to tell me all it takes is one time, and all it took was one time / Sh*t, we only met two times, two times! / And both times were nothing like the new times / Now it's rough times I'm out here on frontlines, trying to make sure that I see him sometimes.
More of the lyrics go:
It's breaking my spirit / single father, I hate when I hear it I used to challenge my parents on every album / Now I'm embarrassed to tell 'em I ended up as a co-parent
This is honestly heartbreaking to listen to, and it only gets sadder, because Drake reveals that he's only met his son one time, despite wanting to see him more.
He continues to rap:
I got a empty crib in my empty crib / I only met you one time, introduced you to Saint Nick / He must've brought you like 20 gifts / Your mother saying you growing so fast that they don't really fit but, man, you know, I still had to get it for my boy tho
Talk about a mic drop, man. This story is wild.