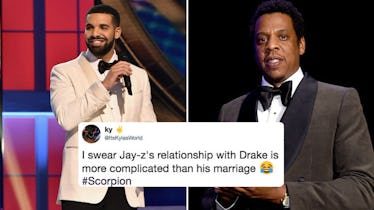 Drake Features JAY-Z On 'Scorpion,' So I Guess There's No Beef After All
Michael Loccisano/Getty Images Entertainment/Getty Images; Michael Kovac/Getty Images Entertainment/Getty Images
Drake's album Scorpion just dropped, and OMG there are so many lyrical bombs that exploded along with it. Besides the fact that we just found out the rapper is, you know, a DAD, there's something else that just blew fans' collective minds. Because even though he just dissed him on his new song "Boss" with Beyoncé, Drake features JAY-Z on his new album. And like, what the actual what?
Three 6 Mafia's DJ Paul produced the track in question — it's Track 11, and it's called "Talk Up" — and even he didn't initially know JAY-Z was going to be on it! "He was added on later," Paul explained to Vibe the day before the album dropped. "I haven't even heard it, actually. I've heard pieces of it. I just found this out. My artist Lil Wyte called me and said that a long time ago me and Juicy J and Crunchy Black and all of us were on BET's Rap City: Tha Basement. They asked me what rapper would I ever want to be on one of my beats and I said JAY-Z like 15 years ago, and now JAY-Z is on one of my beats. That's huge. I talked it into existence like 15 years ago. Two of the biggest artists in the world on one of my tracks, man. I couldn't believe it."
I can't believe it either, considering JAY-Z came at Drake hard on "Boss," a single from The Carters' surprise album Everything Is Love. Not only did he go off on Drake's feud with Pusha T, but he even threw in a reference to that infamous $100,000 invoice Drake sent to G.O.O.D Music for "reviving Pusha T's career":
"Everybody's bosses 'til it's time to pay for the office," he raps. "To them invoices, separate the men from the boys over here. We measure success by how many people successful next to you. Here we say you broke if everybody gets broke except for you."
Ooooh, burn! Jay also references Drake's line in "Summer Sixteen," a song in which he actually compares himself to JAY-Z. "Oh it's your time now, yeah, that's what everybody say. I used to wanna be on Roc-A-Fella then I turned into Jay. Now I got a house in LA, now I got a bigger pool than Ye. And look man, Ye's pool is nice, mine's just bigger's what I'm saying."
So yeah, that all went down. And now we somehow have JAY-Z rapping a verse on Scorpion. Are these two, like, besties now, or what? Not surprisingly, fans of both rappers took to Twitter to try and dissect the bizarre relationship:
Oh, same! And while we may never know what actually went down between these two and how the collab came to be, it's pretty clear that fans are hype about JAY-Z showing up for a verse of the song.
The album features 25 songs in all, including number one hit singles "God's Plan" and "Nice For What." And considering the Editor's Note Drake wrote for Apple Music, it's pretty clear he's not letting any of his haters get to him.
"I hate when Drake raps," he wrote. "Drake sings too much. Drake is a pop artist. Drake doesn't even write his own songs. Drake took an L. Drake didn't start from the bottom. Drake is finished. I like Drake's older stuff. Drake makes music for girls. Drake thinks he's Jamaican. Drake is an actor. Drake changed. Anybody else > Drake …. Yeah yeah we know."
Well done, sir.