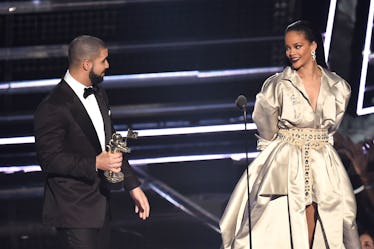 Drake & Rihanna Aren't Following Each Other On Instagram, So The Friendship Must Be Over
Michael Loccisano/Getty Images Entertainment/Getty Images
It's always sad to see a friendship dissipate, especially when the friends in question are of the celebrity variety. But that's exactly what's happened between Drake and Rihanna. And that fact was further solidified by the their recent Instagram activity. So, what's the story? Basically, Drake and Rihanna aren't following each other on Instagram anymore. Is it over for good? Well, it certainly looks that way.
The Instagram revelation comes just a week after Vogue released Rihanna's June 2018 cover interview. In the interview, Rihanna talked at length about a variety of topics, including body image issues, dating, and getting older. Among the topics discussed was her relationship, or lack thereof, with Drake.
When Vogue brought up Drake's love confession at the 2016 VMAs, Rihanna had this to say about where she and Drake's friendship stands now:
The VMAs is such a fan-focused awards show, so having that energy around me, and knowing the people who had received the award in the past, made it feel like a big deal. Waiting through that speech was probably the most uncomfortable part. I don't like too many compliments; I don't like to be put on blast. We don't have a friendship now, but we're not enemies either. It is what it is.
While Drake was following Rihanna on Insta as recently as last week, the rapper has unfollowed her since the Vogue story broke. Rihanna, on the other hand, has not followed Drake on the social media platform for months.
So, what did Drake say that made Rihanna so uncomfortable? Well, he did pay her lots of compliments and he also said that he'd been in love with her since he was 22 years old. Here's a snapshot of his speech:
What's most impressive isn't the endlessness of stats, awards, and accomplishments. What's most impressive is the person … She succeeds by doing something no one in this industry does, which is being herself ... She's someone I've been in love with since I was 22 years old; she's one of my best friends in the world. All my adult life, I've looked up to her even though she's younger than me. She's a living, breathing legend in our industry.
While all that seems rather lovely, it's easy to see why Rihanna would be uncomfortable. She's notoriously private and extremely humble when it comes to her accomplishments. So, it just seems like Drake went a bit overboard in gushing over her.
Have a look at Drake's speech for yourself:
Up until that speech, which was in August 2016, Drake and Rihanna had been rumored to be dating. Through the years, there were ups and downs, breakups and reconciliations, and public displays of affection. But given all that Drake and Rihanna have been through together, what could have made them split up (even as friends) for good? Unfortunately, the details on that remain unclear. Perhaps they just needed to take some time for themselves.
In any case, Rihanna has moved on, at least romantically. She's now dating a Saudi billionaire by the name of Hassan Jameel. She told Vogue that she's content with her life now, though she didn't mention Jameel by name:
I used to feel guilty about taking personal time, but I also think I never met someone who was worth it before. Even mentally, just to be away from my phone, to be in the moment, that has been key for my growth. Now, when I come to work, I'm all in. Because before you know it, the years will go by. I'm glad I'm taking the time. I'm happy.
Whatever the situation between Drake and Rihanna, what matters is that they're both content. Rihanna seems like she's in a very good place now, which is great to see.