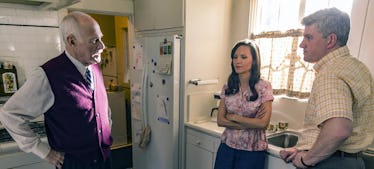 This Character Returned To 'This Is Us' & Gave The Most Inspiring Speech To Rebecca
Ron Batzdorff/NBC
This Is Us fans were greeted with a very welcome, old face on Tuesday night's new episode... and after that heart-wrenching Super Bowl episode, we really needed it. Dr. K returned to This Is Us with a super inspiring speech, and it was easily one of the most emotional highlights of the new episode.
Spoiler alert: Don't read on if you haven't seen Season 2 Episode 15 of This Is Us, titled "The Car," for yourself yet. Tuesday night's new episode followed up the absolutely tragic death reveal of the post-Super Bowl episode with another truly heartbreaking episode. The episode was entirely set in flashbacks, jumping back and forth between sweet memories Jack shared with Rebecca, Kevin, Randall, and Kate when he was alive, and the Pearson family on the day of Jack's funeral. The common thread connecting all these vignettes was the Pearson family's car, a Jeep Wagoner that we see Jack buying for the family in the opening scene. We saw Jack bonding with Rebecca and the kids at various time periods in the station wagon, from heart-to-hearts with Kate about Alanis Morissette, to teaching Randall and Kevin how to drive, to a brain tumor scare with Rebecca.
And the car was also with the family as they drove to Jack's funeral, which was another huge, emotionally-taxing moment, as Rebecca, Kevin, Randall, and Kate all held back tears while a priest spoke over an urn of Jack's ashes. The emotional weight of Jack's sudden death nearly broke Rebecca... but she got some very helpful words from an old friend that inspired her to keep going. That's right, y'all — Dr. K is back, and you know he has the perfect inspirational speech for the moment, just like he always does.
Towards the end of the episode, the man that delivered Rebecca's kids stopped by to check in on her. After Jack's funeral, Dr. K came to Rebecca to give her exactly what she needed: a huge pick-me-up. Rebecca confessed to Dr. K that she is afraid she will not be a good enough mother without Jack by her side, but the good doctor reminded her of her strength and reassured her that she was already an incredible mother, and would continue to be one even though Jack is gone. Honestly, it was probably the most uplifting and touching moment in an episode full of tissue-grabbing scenes, and it was so beautiful to see Dr. K come back. After all, he was there at the very beginning of this journey, so it only felt right that he should be here for Jack's final moments.
Check out Dr. K's full inspirational speech that he gave to Rebecca below:
And of course, Twitter completely broke down in tears at just the sight of Dr. K... and then again when he delivered that beautiful speech. Check out the best Twitter reactions to Dr. K's big return below:
And the most beautiful part of Dr. K's speech was that we actually got to see how Rebecca took his words to heart and stepped up to the plate to be an amazing mother following Jack's funeral. After she took the kids out to Jack's favorite tree to spread his ashes, she swallowed her grief and showed her strength to her children, telling Randall and Kevin that neither one of them needs to worry about becoming the man of the house, and Kate that she should not blame herself for Jack's death. Then she revealed Jack had bought them all Bruce Springsteen concert tickets and suggested they go enjoy the night.
The real moment of strength came when Rebecca was driving to the concert and reached an old bridge that she always closes her eyes while crossing. Except this time, she crossed the bridge with her eyes open.