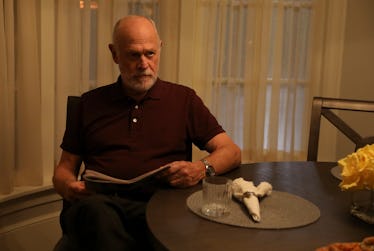 Dr. K From 'This Is Us' Is Guest Starring On 'A Million Little Things,' So Get Ready To Sob
ABC/Jack Rowand
Thanks to a long summer of ABC constantly promoting its new drama A Million Little Things, even the most casual of TV watchers has figured out that it's the network's equivalent of NBC's This Is Us. So far, A Million Little Things has leaned more on its depressing content than the uplifting moments This Is Us usually includes, but that's about to change. Dr. K from This Is Us is guest starring on A Million Little Things, so break out the tissues and watch out for any subtle references to lemons.
On Oct. 17's episode of A Million Little Things, Emmy winner Gerald McRaney will guest star as Delilah's father Lenny. While This Is Us's Dr. K is seemingly unbeatable and lived to at least 1998 after narrowly cheating death in the '80s, Lenny suffers from Alzheimer's. In a sneak peek of McRaney's performance, a flashback from six months before Jon's death shows Lenny offering sangria to recovering alcoholic Eddie (David Giuntoli) at a barbecue. Jon (Ron Livingston) steps in, harshly reminding his father-in-law of Eddie's sobriety and making both Lenny and Delilah (Stephanie Szostak) uncomfortable. Delilah confronts Jon for embarrassing her dad, but he defends his decision by saying he was only looking after Eddie.
The buzzing of Jon's phone interrupts the tense conversation, but Delilah is sadly used to it. Acting the polar opposite from his warm persona the show has previously focused on, Jon snaps back, "Everything I do is to take care of this family."
Wednesday's episode will consist of flashbacks explaining the state of Jon and Delilah's marriage before she began an affair with Eddie, which Eddie's wife Katherine (Grace Park) and their friends found out about in Oct. 10's episode. Unsurprisingly, the group didn't take the news too well, but the upcoming episode "Friday Night Dinner" (Gilmore Girls, anyone?) will finally explore Delilah's reasoning for pursuing Eddie. Seeing as viewers have only known "perfect Jon" before this, the story ought to fill in the cracks of knowledge about why Jon decided to kill himself.
Whether or not McRaney's casting was a coincidence, it is pretty funny that A Million Little Things has snagged an actor who has become synonymous with the exact series to which the show is often compared. While he's known on This Is Us for tearjerker speeches and saying exactly what Jack or Rebecca Pearson needs to hear, McRaney's new character seems to be more vulnerable because of his condition. It's unclear if Lenny will also appear in the present-day storyline in "Friday Night Dinner," but seeing as he wasn't seen at Jon's funeral, perhaps he died in the six-month period between the barbecue and Jon's suicide. If Delilah lost her dad and a distracted Jon wasn't providing the comfort she needed, it would make sense for her to have turned to Eddie for strength.
ABC's own description of the episode also hints at McRaney's role being small, focusing on the other characters' storylines instead. It reads:
The aftermath of Eddie and Delilah's secret takes a toll on everyone in the group, including the future of Delilah and Regina's restaurant. Maggie and Gary's relationship is tested when an old fling turns up, and Delilah struggles with the balance of protecting her children and keeping Jon's memory alive.
We'll have to wait and see if Lenny leaves as much of an emotional impact as Dr. K does. Season 1 of A Million Little Things continues on Wednesday, Oct. 17, at 10 p.m. ET on ABC.