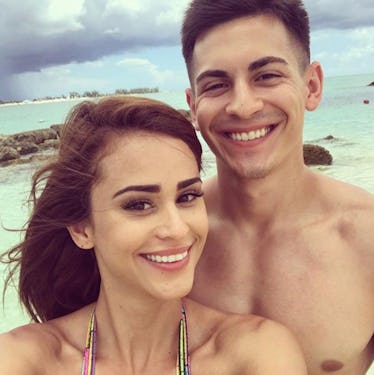 This Guy Dumped His "World's Sexiest Weathergirl" GF To Play 'Call Of Duty' & Uh, Wow
This may sound like a game of #RelationshipGoals Mad Libs, but up until recently, professional Call of Duty player Doug "FaZe" Censor and the "World's Sexiest Weathergirl" Yanet Garcia were a couple. (It's unclear who bestowed the title on her, but wow.) Now, in an unfortunately heartbreaking twist of events, Doug "FaZe Censor" Martin and Yanet Garcia broke up.
Martin and Garcia were together for three years. He announced the news in a 10-minute-long YouTube video à la Liza Koshy and David Dobrik. Unlike Koshy and Dobrik's video, Martin is alone so we're only really getting his side of the breakup... but, then again, it's all the info we've got, so I guess we'll take it.
He starts off the video by giving a little backstory on who Garcia is and how they got together:
As you guys can tell by the title, Yanet and I are no longer in a relationship with each other anymore. So I'm just gonna take it back to the beginning really quick. If any of you guys don't know, Yanet, obviously, is one of the most beautiful women in the world. She's a supermodel. She's super, super famous on social media.
Right. All of the deep, personal things you want your ex of three years remembering you for.
He continues:
We started seeing each other three years ago. I flew all the way out to Mexico to meet this girl. I thought she was so beautiful, I wanted to know more about this girl. We ended up dating each other and then we ended up getting into a relationship with each other and then we ended up moving in together in New York and we had a great time in the apartment for like that year/year and a half. We had so many memories, so many great memories, so many bad memories like, you know, the highs and the lows — everything.
So, even though the couple was all smiles and sexy pics on Instagram, it turns out there were some dark times even when they were together.
Finally, he gets to the nitty-gritty of what caused the split:
For me to manage bring a professional Call of Duty player, being a gym shark/athlete, being a YouTuber making videos, playing Call of Duty full-time, taking care of two dogs, having a house and going through renovations, and then also managing a girlfriend… It's like I had to pick my poison of what I wanted to spend my time and focus on. There's only 24 hours in a day, and I just didn't have enough time to do everything that I needed to do.
"She wants to go be an actress. I want to be an actor. I want to win a Call of Duty Award Championship," Martin explained. "She wants to be like, you know, a supermodel/actress. Chase your dreams, life is too short. You gotta do what you want in life."
Right.
You can watch the full video for yourself here:
Garcia has decided to be a little more private about the breakup than her ex. She succinctly managed to capture her feelings in one simple tweet: "Heartbroken *broken heart emoji* *sad face emoji*".
TBH, based on Instagram, it looks like she's too busy promoting her new sexy cover for Maxim Mexico to be bothered with making a petty breakup video.
I honestly would feel bad for them going through this terrible catastrophe in their personal lives but, TBH, it looks like their professional lives are *way* more lit than any of ours... so, at least, they have those to focus on.
Check out the entire Gen Why series and other videos on Facebook and the Bustle app across Apple TV, Roku, and Amazon Fire TV.
Check out the "Best of Elite Daily" stream in the Bustle App for more stories just like this!