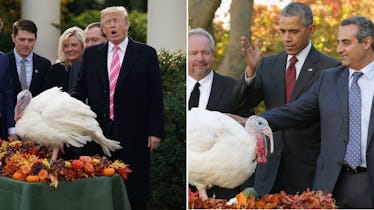 Donald Trump's Jokes At The Turkey Pardon Are Wildly Different From Barack Obama's
Chip Somodevilla/Getty Images News/Getty Images // Chip Somodevilla/Getty Images News/Getty Images
On Tuesday, Nov. 22, President Donald Trump performed the all-important tradition of pardoning two turkeys ahead of the Thanksgiving holiday. A longstanding tradition, the event is usually a festive and lighthearted affair, and his predecessor President Barack Obama was known to use the occasion to crack a joke or two. And coming on the heels of a contentious midterm election this year, some levity was sorely needed. But as one might expect, Trump's jokes compared to Obama's at the turkey pardon couldn't have been any more different.
As per tradition, two birds, named Peas and Carrots, were in "contention" to receive the presidential pardon. Announcing which of the two would get the honor, Trump said:
The winner of this vote was decided by a fair and open election conducted on the White House website. This was a fair election.
Not sparing any feelings, just a few days after a series of nail-biter elections for governorships and Senate seats in Florida and Georgia were finally called in favor of Republicans, Trump added:
Unfortunately Carrots refused to concede, and demanded a recount, and we're still fighting with Carrots. We've come to a conclusion and Carrots, I'm sorry to tell you, the results did not change.
Ultimately, as the tradition goes, both birds received pardons and will live out the rest of their turkey lives at Gobbler's Rest at Virginia Technical University.
But the turkeys weren't totally out of the woods. Trump went on:
Even though Peas and Carrots will receive a presidential pardon, I have warned them that House Democrats are likely to issue them both subpoenas.
He was presumably referring to the powers of the majority party in the House of Representatives to subpoena documents, testimony, and the like from high-profile officials, including Special Counsel Robert Mueller and Trump himself. Thanks to the midterm elections, Democrats in January will now be in power and have made clear they intend to use this power to compel whatever information they see as necessary.
Finally, Trump made a dig about recent decisions handed down from a federal appeals court, including striking down his transgender military ban and sanctuary cities ban. "Unfortunately, I can't guarantee that your pardons won't be enjoined by the ninth circuit — always happens," he said.
Needless to say, the tenor of Trump's turkey-day jokes were wildly different from dad-joke-maker-in-chief, President Barack Obama's. Far from political attacks, our 44th president was known for a range of ridiculous turkey puns, teasing his daughters, and even some light mockery of the event itself. Is it any wonder that his daughters, Sasha and Malia, decided that they'd had enough and skipped the final year? (It just left Obama freer to make more over-the-top dad jokes, which was to everyone's benefit, really.)
Viewers may cringingly recall Obama's dad-joke riddled address from his final year in office, in 2016. In that speech, he said:
No way I'm cutting this habit cold turkey. We should also make sure everyone has something to eat on Thanksgiving. Of course, except the turkeys, because they're already stuffed.
Had enough yet? Too bad — Obama was just getting warmed up:
When somebody at your table tells you that you've been hogging all of the side dishes, you can't have any more, I hope that you respond with a creed that sums up the spirit of a hungry people: 'Yes, we cran.' And so let's get on with the pardoning. Because it's Wednesday afternoon and everyone knows that Thanksgiving traffic can put people in a fowl mood.
Whether you're more a fan of the brutal political jokes or the cheesy dad puns, at least both presidents used the occasion to attempt to garner some laughs. We can always use some of those.