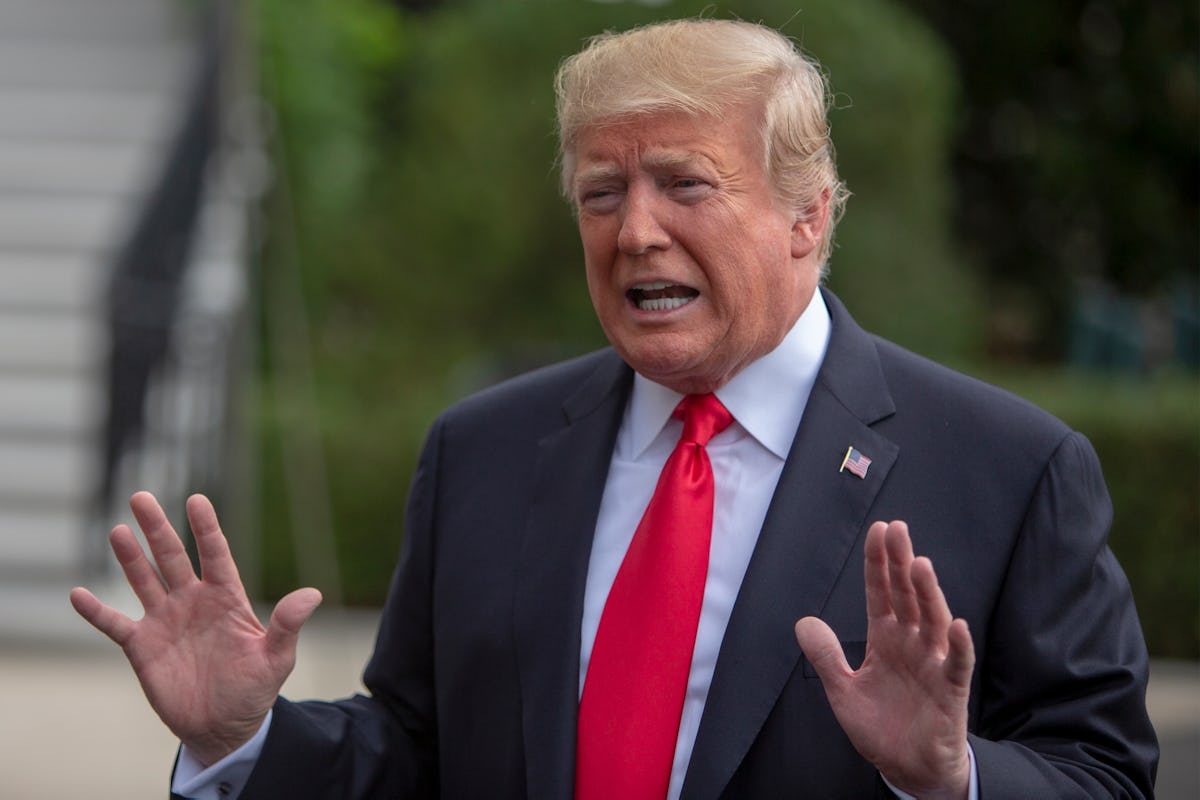 Donald Trump Had The Pettiest Response To Taylor Swift Speaking Up About Politics
Tasos Katopodis/Getty Images News/Getty Images
In a move that literally no one saw coming, Taylor Swift broke her years-long silence on politics on Sunday, Oct. 7. In a post shared to her Instagram, the pop star endorsed Democratic candidate Phil Bredesen over Republican Rep. Marsha Blackburn in Tennessee's race for U.S. Senate, and encouraged her 112 million Instagram followers to get out and register to vote ahead of the midterm elections. The move into discussing politics drew both praise and backlash, and even the president weighed in on the subject. But Donald Trump's response to Taylor Swift's Instagram about voting shows that there could be a bit of "bad blood" between these two now.
President Trump addressed the post while speaking with reporters on the White House South Lawn on Monday, Oct. 8. In his comments, he refuted Swift's endorsement of Bredesen and complimented Blackburn, who he said is a "tremendous woman ... doing a very good job in Tennessee." Then he tossed a soft jab at Swift, noting he's "sure Taylor Swift has nothing — or doesn't know anything about her."
Trump then went in with a petty zinger, telling the reporters in a mic-drop moment, "Let's just say I like Taylor's music about 25 percent less now, okay?" before waving and walking away.
Oof.
In Swift's Instagram post, she wrote that she decided to break her longstanding silence on politics because of several "events in [her] life and in the world in the past two years" (maybe since Trump won the presidential election?). The post partly read:
In the past I've been reluctant to publicly voice my political opinions, but due to several events in my life and in the world in the past two years, I feel very differently about that now. I always have and always will cast my vote based on which candidate will protect and fight for the human rights I believe we all deserve in this country. I believe in the fight for LGBTQ rights, and that any form of discrimination based on sexual orientation or gender is WRONG. I believe that the systemic racism we still see in this country towards people of color is terrifying, sickening and prevalent.
She continued, "As much as I have in the past and would like to continue voting for women in office, I cannot support Marsha Blackburn. Her voting record in Congress appalls and terrifies me." She cited, particularly, Blackburn's record on things like reauthorizing the Violence Against Women Act (VAWA) and LGBTQ+ rights. Swift then concluded by saying that she would be voting for Bredesen for the Senate, and also for Rep. Jim Cooper, a Democrat who's running for re-election to the House. Elite Daily reached out to representatives for Swift and Blackburn for additional comment at the time, but did not hear back.
But her post clearly had an impact. In the aftermath of the Instagram, Vote.org reported that it saw an unprecedented surge of new voter registrations. On Monday, Oct. 8 (just a day after Swift's post), Kamari Guthrie, director of communications for Vote.org, told Buzzfeed News:
We are up to 65,000 registrations in a single 24-hour period since T. Swift's post ... Vote.org saw [Tennessee] registrations spike specifically since Taylor's post.
"Thank God for Taylor Swift," Guthrie added.
With such star power, it seems like Swift'll be just fine without Trump's support.