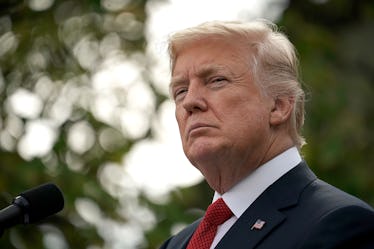 Twitter Is Not Here For Donald Trump's Comments On Nike's Colin Kaepernick Ad
Chip Somodevilla/Getty Images News/Getty Images
Earlier this week, Nike announced that former NFL player Colin Kaepernick would serve as one of the athletes to help the company commemorate the 30th anniversary of its iconic slogan "Just Do It." Though the decision was met with praise from some, the criticisms haven't really stopped rolling in either, including, unsurprisingly, from President Donald Trump. The president clearly isn't here for the campaign and aired his feelings about the subject on social media. But Donald Trump's response to Nike's Colin Kaepernick ad is catching plenty of heat on Twitter, and you've gotta see it.
Trump took to the social media platform on Friday, Sept. 7 to question Nike's decision to feature Kaepernick, the former San Francisco 49ers quarterback who has been subject to widespread scrutiny for sparking protests during the national anthem in 2016, in its latest campaign. Trump's tweet about the Nike ad read, "What was Nike thinking?"
Twitter users quickly flooded Trump's mentions with suggestions for why Nike selected Kaepernick for the campaign. And, of course, took the opportunity to toss some shots at Trump, too.
Author Emma Kennedy questioned what Trump was thinking when he called white supremacists "very fine people" in the wake of the August 2017 Charlottesville protests, which ended in the death of one person and the injuries of many others.
One person wrote that Nike was "certainly thinking of something more inspirational than [Trump] could imagine." Ouch.
Well said, guys.
Kaepernick, who is credited with originating the protest in 2016, said in an interview at the time that the demonstration is in protest of racial inequality and police brutality against African Americans. However, Trump has been a frequent critic of the protests since their inception, so his feelings on Nike's decision to feature the very person who started them might not be too surprising. When the news of Kaepernick's Nike ad broke on Wednesday, Sept. 5, Trump had also taken to Twitter to trash the sports brand, writing:
Just like the NFL, whose ratings have done WAY DOWN, Nike is getting absolutely killed with anger and boycotts. I wonder if they had any idea that it would be this way? As far as the NFL is concerned, I just find it hard to watch, and always will, until they stand for the FLAG!
Some of his supporters followed up by destroying their own personal Nike items in protest of the ad, per Deadline.
But there appeared to be a pretty solid message behind Nike's ad campaign, as evidenced by a video both Kaepernick and Nike posted to their accounts on Wednesday, Sept. 5. In the commercial's voice-over, Kaepernick explained:
If people say your dreams are crazy, if they laugh at what you think you can do, good. Stay that way. Because what nonbelievers fail to understand is that calling a dream crazy is not an insult; it's a compliment.
He continued:
Don't try to be the fastest runner in your school, or the fastest in the world. Be the fastest, ever. Don't picture yourself wearing OBJ's [Odell Beckham Jr.] jersey; picture OBJ wearing yours. Don't settle for homecoming queen or linebacker; do both. Lose 120 pounds and become an iron man, after beating a brain tumor. Don't believe you have to be like anybody to be somebody.
That said, when it comes to Trump's question, it looks like Nike just did it. Whether or not the president likes it.