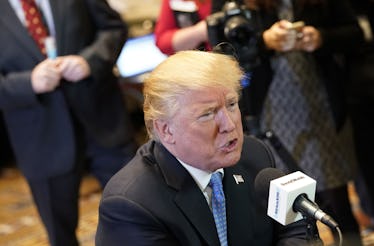 Donald Trump's Not Going To Like This News About His Net Worth
MANDEL NGAN/AFP/Getty Images
Though he likes to boast about his business savvy, it appears the president is actually hemorrhaging money. On Tuesday, Oct. 17, Forbes reported that Donald Trump's net worth is down $600 million since 2016. As of now, Trump's net worth has dropped to $3.1 billion, down from last September's $3.7 billion.
Forbes' annual list of the 400 richest Americans was released Tuesday, and Trump suffered a huge blow in the rankings, tied for 248th place with 15 others who also have $3.1 billion. Last year, Forbes reported Trump at number 156, and even that was a tough time for him financially. In September 2016, he'd lost $800 million in net worth over the previous year, according to Forbes.
This is the second time this year that Trump has fallen dramatically in a ranking of billionaires. Back in March, Forbes' worldwide billionaire rankings showed Trump dropping 220 places over the previous one, tied for 544th-richest in the world. At that time, his net worth was $3.5 billion, having dropped a whopping $1 billion from the previous year.
His showing this year was so bad, in fact, that that the economics magazine called him "the most notable loser." And Trump once said it best himself:
His massive decline in net worth, Forbes notes, is in part thanks to the poor performance of the New York real estate market, accounting for $400 million of Trump's loss. But he can't blame market factors entirely: His properties in other locations, such as in Miami, are seeing a drop in business, according to Forbes. This is likely in part driven by a drop in business fueled by his off-color comments and policy positions that are unpalatable to some. In fact, the Washington Post reported on Oct. 8 that Trump's Scotland golf courses lost $24 million over the last year.
A lawsuit over Trump University also cost him $25 million and financing his own presidential campaign another $66 million, writes Forbes' Dan Alexander and Matt Drange. The big losses were in part neutralized by a couple of highly successful properties in San Francisco and Las Vegas, they report. According to the Washington Post, two of the president's properties — the Mar-a-Lago resort in Florida and Trump International Hotel in Washington D.C. — have seen huge bumps in revenue and fees since he took office.
A breakdown of Trump's assets and net worth by Forbes in September showed that $1.6 billion of Trump's money is thanks to his New York properties, with another $570 million coming from his golf clubs and resorts.
But Trump shouldn't feel too bad about himself, given how exclusive and competitive this year's billionaire list was. Forbes says a record of 169 billionaires didn't have the dough to make the list. Not even Sheryl Sandberg of Facebook.
In his own words, Trump is more interested in the competition than the money.
But given that he's losing ground in regards to both, it's anyone's guess how he'll react to the last blow to his stature. As of 1 p.m. ET Tuesday, Trump had tweeted about the stock market but was curiously silent about the Forbes list.
While he's criticized the magazine numerous times, he's also shared Forbes' lists when they were positive for himself or his family.
His finances have certainly taken a hit since the campaign, when he argued with competitor Hillary Clinton over how many times he'd filed for bankruptcy (Clinton was right) — six times, so far, per the Washington Post. But he's still the wealthiest person in the Trump family by a long shot, although he's by no means the richest of his cohort, outpaced by at least eight other world leaders at last count.