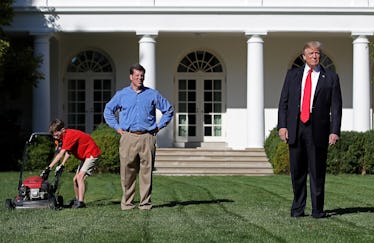 Donald Trump's Top Instagram Posts Are The Most Bizarre Summary Of 2017
Win McNamee/Getty Images News/Getty Images
In the past, if you wanted to look back at how the year has gone for a particular president, you'd probably only need to check out the legislative record or the types of news headlines they made. In 2017, though, you could simply check social media profiles, especially for a president who's as active on social media as President Donald Trump. In fact, you only need to take a look at Donald Trump's best nine photos on Instagram to be reminded of what a truly unique year it has been.
Trump's nine most-liked posts on Instagram in 2017 include photos as simple as a picture showing the Christmas tree that sits outside the U.S. Capitol. But it also includes a photo showing two kids who wore costumes to impersonate Trump and Vice President Mike Pence, just cause.
There's also a picture of President Trump standing beside a 11-year-old kid on the White House's lawn. If you're wondering whether our federal government indulged in child labor and you just didn't know about it, the answer is no. That 11-year-old kid, Frank Giaccio of Virginia, actually volunteered to mow the grass at the White House.
"Even though I'm only 10, I'd like to show the nation what young people like me are ready for. I admire your background in business, and I've started my own," Giaccio wrote in a letter that White House Press Secretary Sarah Huckabee Sanders shared with reporters in August. Giaccio eventually got a chance to actually take his business to Washington D.C. According to the Washington Post, Giaccio turned 11 by the time he got to go to the White House.
When Trump's Instagram account shared the photo of the president next to Giaccio, it become one of the most popular posts of the year, drawing nearly 475,000 likes.
The caption on the photo that shows the two faux presidents reads,
President Donald J. Trump stops to speak with two teenagers wearing wigs to impersonate President Trump and Vice President Mike Pence, saying "I Iike this kid, I like this!", on his arrival to Salt Lake City International Airport, Monday, December 4, 2017, in Salt Lake City.
Another one of Trump's most liked Instagram stories was actually a tweet. That is, it was a tweet that Trump screenshot and uploaded to his IG account. The tweet was shared on his inauguration day, and read, "It all begins today! I will see you at 11:00 A.M. for the swearing-in. THE MOVEMENT CONTINUES - THE WORK BEGINS!"
Here Are President Trump's "Best Nine" Photos Of The Year In Full
Among the nine photos is one of the president at the Western Wall in Jerusalem. In May, Trump became the first sitting president to visit the Jewish holy site. At the time, he had been on his first foreign journey as president, a voyage that took him through the Middle East and Europe. Previous presidents had visited the Western Wall, but not during their time in office.
At the time, Trump hadn't recognized the territory in which the Western Wall is located as part of Israel, which his predecessors avoided doing as well. In December, that changed. "Today we finally acknowledge the obvious: that Jerusalem is Israel's capital," during a press conference at the White House. This is nothing more or less than a recognition of reality. It is also the right thing to do. It's something that has to be done."
Another photo among Trump's most popular was one that showed the White House at night, draped in red, white, and blue lighting to mark Independence day.
Within the caption were a few hashtags. Among them, as usual, was #MAGA.