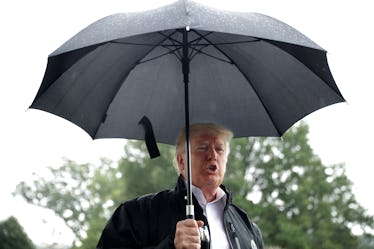 Donald Trump's Comment About A Saudi Journalist's Disappearance Is Troubling
Chip Somodevilla/Getty Images News/Getty Images
International political intrigue is great for a mystery novel, but in real life, it usually means heartbreak and trouble. This latest international drama is no different, as the international community is in an uproar about Saudi journalist and dissident Jamal Khashoggi, who disappeared visiting the Saudi Arabian consulate in Istanbul, Turkey, in early October. While the world questions what happened, President Donald Trump's comment about Jamal Khashoggi's disappearance is already speculating about the cause, and it's a little disturbing.
On Oct. 15, Trump tweeted out that he had spoken to King Salman of Saudi Arabia, who he said had denied any knowledge of what had happened to Khashoggi. Trump seemed to take the Saudi king's denials at face value. After the call, Trump said that Khashoggi could have been murdered by "rogue killers," presuming both that Khashoggi was dead and who might be to blame. Elite Daily reached out to the White House for clarification on the president's comments, but did not immediately hear back.
Local officials in Turkey reportedly believe the journalist and dissident was killed and his body allegedly dismembered at the consulate during his Oct. 2 visit, per The New York Times. In contrast, Saudi officials have said that Khashoggi left the consulate prior to his disappearance, with the consulate saying in an Oct. 4 statement via the state-run Saudi Press Agency that it was working with local authorities to look into Khashoggi's disappearance. "The consulate confirmed that it is carrying out follow-up procedures and coordination with the Turkish local authorities to uncover the circumstances of the disappearance of Jamal Khashoggi after he left the consulate building," the statement said.
"It sounded to me like maybe these could have been rogue killers, who knows. We are going to try to get to the bottom of it very soon," Trump told reporters on Oct. 15, as he prepared to travel to storm-ravaged Florida. "But his was a flat denial." Elite Daily reached out to the White House for clarification on the president's comments, but did not immediately hear back.
Khashoggi was last seen on Oct. 2 arriving at an appointment at the Istanbul consulate for an appointment to pick up a document he needed for his upcoming wedding while his fiancée waited in the car. The journalist, who lives in Virginia and is a columnist with The Washington Post, was reportedly seen on camera entering the consulate, but Turkish officials have said that there is no video of him leaving, and reportedly told U.S. authorities that there is audio and video evidence of his death, per the Post. Saudi officials have not released the alleged evidence that proves he left the consulate before his disappearance. Khashoggi's fiancée waited for him outside the consulate for hours, The New York Times reports.
As some on social media have pointed out, Trump's statement has more than a whiff of familiarity about it. Back in July, Trump appeared to take at face value denials by Russian President Vladimir Putin that Russia had meddled in the 2016 U.S. presidential election, despite the fact that the U.S. intelligence community is in agreement that yes, Russia did meddle. "I have great confidence in my intelligence people, but I will tell you that President Putin was extremely strong and powerful in his denial today," Trump said at the time.
Saudi Arabia, like Russia, has been accused of human rights abuses, including suppression of dissidents and political opposition. Many people pointed out the troubling pattern of Trump appearing to believe blanket denials from these world leaders, and questioned the plausibility of "rogue" killers being able to access a diplomatic consulate without being caught.
Trump has been hesitant to publicly criticize Saudi Arabia, a U.S. ally with which the United States has a multi-billion dollar weapons deal. Despite questions of Saudi Arabia's role in Khashoggi's disappearance, Trump has said he is reluctant to impose sanctions on the country. "I don't like the concept of stopping an investment of $110 billion into the United States," he said on Oct. 13. "Because you know what they're going to do? They're going to take that money and spend it in Russia or China, or someplace else." However, he has also said in an interview with 60 Minutes, which aired on Sunday, Oct. 14, that there would be "severe punishment" if Khashoggi had been killed. On Oct. 15, he sent Secretary of State Mike Pompeo to the Saudi capital, Riyadh, to meet with King Salman.
In the meantime, Saudi officials have been publicly working with Turkey to solve Khashoggi's disappearance, and on Oct. 15 announced that Turkish authorities would be granted access to the consulate to search for clues to the journalist's disappearance. What, if anything, they'll find is anyone's guess.