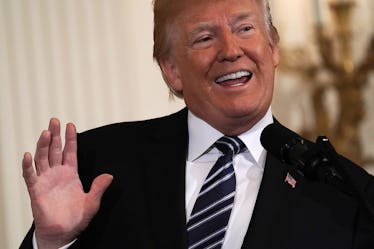 You Can Write Anything You Want On Donald Trump's Birthday Card, So This'll End Well
Alex Wong/Getty Images News/Getty Images
For anyone looking to give the president your two cents, you're now getting your chance. The president's 72nd birthday is quickly approaching, and in preparation for the big day, the White House is accepting digital birthday cards from anyone and everyone who wants to send one. But, here the thing: Donald Trump's birthday card will let you write any message. Yeah, that'll end well.
The president's birthday is right around the corner on June 14, so Trump and the Republican party apparently both had the brilliant idea to allow the public to submit a birthday message to the president. There are forms to send him a message via an online "birthday card" on both the president's campaign website and the GOP website. But there's a limit to how long your message can be. The form on the president's site limits the submissions to 80 characters, but — interestingly — this form on the GOP website doesn't seem to have a limit. But better move fast: there's a short window of time to enter a message, as all messages have to be submitted by 9 p.m. on June 14, his birthday, according to the Republican party's website.
You don't have to wait until then, though, and many people aren't, including Lip Sync Battle host Chrissy Teigen. On Wednesday, June 6 she tweeted a call to action with a link to the online form to fill out his digital birthday card. She wrote:
Hey guys, let's put the jokes aside and all come together to send president trump some birthday messages on this official card where you can write anything u want, all your thoughts and feelings absolutely anything anything for this special day
She then added, "Just know this is his official birthday card so make sure it's from the heart! Happy Birthday, champ."
Teigen and Trump have quite a Twitter history, which even lead to the president blocking Teigen's Twitter account — so I'm sure Teigen means nothing but warm wishes when she asks people to send him messages.
Her followers responded with fervor, with some replying to her tweet with screenshots of their own submissions. Presidential birthday cards began rolling in with messages ranging from bringing awareness to serious issues to comments like "you look like a giant potato."
One fan even decided to get a bit poetic. One person wrote, "Roses are red/Peaches are orange/You're grossly inexperienced/And you suck." Another gave Trump a little piece of advice. They wrote, "Please resign before they impeach you. It'll be less embarrassing."
But lots of others were less tongue-in-cheek about their feelings toward the president. One person didn't hold back, writing, "You're ruining our country you hypocritical, lying, ignorant, racist oaf. From, Worried in Las Vegas." Ooh, yikes.
Another person told used the opportunity to bring Puerto Rico to the president's attention. They wrote, "Puerto Rico is still suffering and you're too dumb to know they're Americans."
But some, like user MC, kept it short and sweet: "Resign. From, American Citizens."
But possibly one of the best tweets about Trump's birthday card wasn't actually about the message. One person pointed out that, um, maybe this isn't the best idea for a president known for being divisive. "Trump's official birthday card is literally the worst idea ever. Kinda like those 'ask *insert troubled celebrity*' hashtags have been," she wrote.
I mean, she's not wrong. Given both Trump's history of saying highly offensive things and the history of reactions from people across the country, it's not surprising that so many people would respond to an opportunity to say anything to the president, especially considering it's for his birthday and he's often been criticized for being narcissistic.
But there is a bit of a catch. Before you rush to send him birthday wishes, know that you're agreeing to let Republicans and Trump's team contact you. At the bottom of the campaign site, it explains that by sending a card means agreeing to receiving calls and text messages from Trump's political committee and the Republican National Committee. That means that if you do send him a card, you'll likely be getting lots of texts and calls about how great Trump is (until you unsubscribe).
Maybe that's why they're doing it, or maybe they really thought Trump might get some nice birthday messages. Either way, it's a setup ripe for the trolling, and many people didn't hesitate. I can't imagine it'll get any better before the president's birthday.