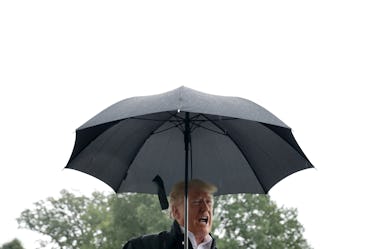 Donald Trump's Argument Against Climate Change Is Apparently Based On "Instinct"
Chip Somodevilla/Getty Images News/Getty Images
Even though this year may have been a tough one of many of us, at least a few much needed conversations have come into discussion. Last week, news broke that climate change is getting more serious by the minute (literally), but Donald Trump's argument against climate change is less about science and more about "instinct" apparently. We'll see how this goes.
On Tuesday, Oct. 16, Donald Trump told the Associated Press that he has a "natural instinct for science" which helps him understand climate change. The president said on Oct. 16,
You have scientists on both sides of it. My uncle was a great professor at MIT for many years, Dr. John Trump. And I didn't talk to him about this particular subject, but I have a natural instinct for science, and I will say that you have scientists on both sides of the picture.
Elite Daily reached out to the White House for additional comment on his remark as well as Trump's previous statements on climate change, but did not hear back in time for publication.
Throughout his presidency, Trump has pushed back against the science of climate change, and has even referred to it as a "hoax" in the past. But this appears to be a slightly different tune. While speaking to the AP, Trump agreed that climate conditions are changing, but proceeded to argue that the climate "goes back and forth, back and forth." Although he said that scientists are divided on whether climate change is man-made, a majority of experts agree that it is and there's serious evidence to back it up. Per NASA, there's more than a 95 percent chance that the current trend of global warming is man-made, and 97 percent "or more" of climate scientists agree that climate change is due to human activities over the past decades.
Trump's comments to the AP follow his Oct. 14 interview on 60 Minutes, where he also discussed climate change. During the interview, host Lesley Stahl asked Trump whether he still stands by his previous comments that climate change is a "hoax." In response, Trump told Stahl that he acknowledges that "something is happening," but he still doesn't believe it's man-made. He said,
I think something's happening. Something's changing and it'll change back again. I don't think it's a hoax, I think there's probably a difference. But I don't know that it's man-made.
On one side, it's reassuring to see Trump's stance on climate change evolve from total dismissal to acknowledging some problem. However, clearly he still has a long way to go if one of his arguments against climate change relies solely on "instinct."
Trump may be a skeptic on the whole matter, but the discussion of climate change isn't going anywhere for quite a long time. On Monday, Oct. 8, the United Nations' Intergovernmental Panel on Climate Change (IPCC) released a report announcing that there's only 12 years left to limit climate change in order to avoid the worst of catastrophic environmental effects such as extreme heat, drought, and floods. According to The New York Times, the report was written by a panel of 91 scientists from 40 countries, who concluded that the worst consequences of climate change could arise as early as 2040 and worsen food shortages, wildfires, and the total extinction of coral reefs. The group of scientists also stated that if greenhouse gas emissions aren't reduced, the world's temperatures will rise to extremely alarming rates.
Trump, you can rely on "instinct" all you want. The rest of us will let the actual science do the talking.