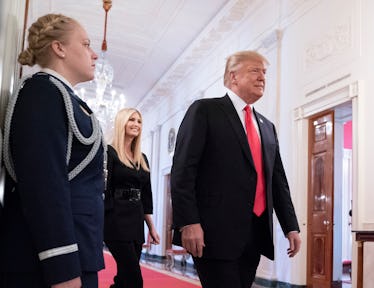 Trump Says 15,000 Troops Could Be Sent To The Border, Which Seems Like Overkill
Pool/Getty Images News/Getty Images
As a caravan of migrants from Central America continues to make its way north, President Donald Trump wants to send 15,000 troops to the U.S.-Mexico border, he says, to assist border patrol agents there. Elite Daily reached out to the DHS and the DOD for comment but did not hear back by the time of publication. The latest remarks from the commander-in-chief as to the size of the defense effort appears to be larger than the number the Department of Defense (DOD) has recently stated, and it's unclear whether that many troops will actually be deployed. The new figures come just days before the 2018 midterm election, for which the president has been ramping up his commentary and hard-line approach to immigration to rally supporters.
UPDATE: John Cornelio, a public affairs deputy for U.S. Northern Command, tells Elite Daily via phone that the number of troops is constantly changing as logical needs come into focus. As of right now, he says, "More than 7,000 [troops] is the words that we'd use." Cornelio says he had "no idea" where the 15,000-troop estimate came from, and confirms that this did not originate from the DOD.
EARLIER: Speaking to reporters outside Air Force One on Wednesday, Oct. 31, Trump said the number of troops deployed "will go up to anywhere between 10 [thousand] and 15,000 military personnel, and that's on top of border patrol, ICE, and everyone else at the border." He added, "Nobody's coming in." The DOD, per updates this week, confirmed it was sending 5,200 troops to support the Department of Homeland Security (DHS)' Customs & Border Patrol (CPB) agency in conjunction with other security personnel, as part of Operation Faithful Patriot. Elite Daily reached out to the White House for comment on the president's assertion, but did not immediately hear back.
The president's claim does not necessarily appear to be confirmed by the DOD, and in fact, may contradict it. Per the Associated Press, officials reportedly said on Oct. 31 that there were no plans to deploy "as many as 15,000" troops. Elite Daily reached out to the DHS and the DOD for comment but did not get confirmation that as many as 15,000 troops had been authorized. That figure, if true, would be roughly three times the total troops currently stationed in Iraq and more than seven times the number stationed in Syria, per NBC.
And if that number of troops sounds a little excessive, well, you might be right. There are an estimated 3,500 migrants in the caravan heading towards the United States, according to a joint DOD/DHS press conference on Oct. 29, with a second caravan of about 3,000 people. Many making the on-foot journey are women and children from El Salvador, Honduras, and Guatemala, fleeing their countries to escape violence, among other reasons. Migrants may see joining a caravan as a safer way to make the journey towards the United States, as traveling alone or in a smaller group may leave migrants vulnerable to attacks or gang violence.
Media Operations Chief for U.S. Northern Command Mary Ricks confirmed to Elite Daily by phone that the latest number of troops "currently," "likely," or "preparing" to be deployed was at 8,000, up from 5,200. Adding in the already 2,000-plus National Guard members already deployed, Ricks says, "We are certainly within that range" of the 10,000-15,000 troops that Trump had suggested, but did not address the upper limit.
As to why the figures had jumped up, Ricks says the initial figure was for planning purposes. "After more discussion with the CBP personnel, we determined that the capabilities that were needed required more personnel," Ricks tells Elite Daily.
According to the DOD, the troops sent to support the DHS will assist with logistical matters like planning, engineering barriers, transporting CBP personnel, and providing them with medical, housing, facilities, and equipment. Elite Daily's inquiry as to whether and how the troops would be enforcing the border law, including detention and deportation, has not been returned as of publication. Officials confirmed in a Monday, Oct. 29 press conference that "units that are normally assigned weapons, they are, in fact, deploying with weapons."
As for what the various personnel will be doing with the potentially thousands of arriving migrants, CBP Commissioner Kevin McAleenan said at the press conference that CBP would be processing undocumented migrants "the same way we're doing currently." Under U.S. law, asylum seekers, whether they cross the border legally or illegally, are entitled to request an interview to apply for asylum upon arrival.
At a rally Wednesday, Trump told the crowd, "We're not releasing anyone."
Not everyone in the defense community seems to agree with the president's tactics of sending military troops to the border. "I would tell [the president] to think long and hard on this one," said retired Gen. Stanley McChrystal, speaking to CNN's Jake Tapper on Wednesday, Oct. 31. "Really, what's about to be assaulted are our values." He continued,
If this caravan comes close and America handles it poorly, and around the world and inside our values are poorly portrayed, to our kids, our grandkids, to ourselves — then I think everything that America stands for is much more at risk than any short-term issue of who's getting across the border.
While Trump has labeled the caravan as a national emergency, Air Force Gen. Terrence J. O'Shaughnessy, in a response to reporters, didn't say whether he agreed with that designation, saying only, "The president has made it clear that border security is national security."
The talk of sending troops to the border comes just after Trump, in an Axios interview published Oct. 30, stated his intention to do away with birthright citizenship, which entitles those born on American soil to have U.S. citizenship regardless of the nationality or status of their parents. The proposed policy move would appear to be at odds with the 14th Amendment of the U.S. Constitution. Elite Daily reached out to the White House for comment on the president's intention but did not hear back by the time of publication.
As of reports on Saturday, Oct. 27, per CNN, the caravan is still days or even weeks from reaching the U.S.-Mexico border, so the figures given by the administration and the agencies involved may continue to change. But as it stands, it's not clear that Trump's claims of 15,000 troops are consistent with what's actually in the works.