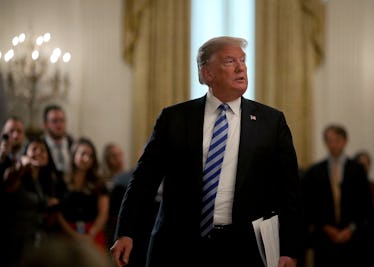 Donald Trump Wants An Investigation Into Who The Op-Ed Writer Is, Because Of Course
Mark Wilson/Getty Images News/Getty Images
Washington D.C. is enmeshed in one of the most bizarre real-life political games of whodunnit this week, after an anonymous New York Times op-ed was published on Sept. 5. The piece, which painted a damning picture of the president and his administration, has continued to dominate headlines through the end of the week. But now, Donald Trump wants Jeff Sessions to investigate the op-ed to uncover who wrote it.
The remarks came on Friday, Sept. 7 as Trump was addressing the press aboard Air Force One in what was reportedly an off-camera interaction. In an audio clip by CNN, Trump can be heard talking to reporters about the piece. Asked whether Attorney General Jeff Sessions, who heads the Department of Justice (DOJ), should take up an investigation, Trump affirmed.
"Yeah, I would say Jeff should be investigating who the author of this piece was because I really believe it's national security," the president said. Asked whether he thought any action should be taken against the Times, the president replied, "Well, we're going to see."
Elite Daily reached out to the DOJ for comment on Trump's remarks Friday but did not hear back at time of publication. In statements to the Times and CNN, spokespeople for the DOJ said the department does not confirm or deny investigations.
The comment comes on the heels of a tweet the president sent Thursday pressuring the Times to investigate itself over the anonymous author's identity. There's a growing list of staffers who have publicly denied doing so, but who did remains unknown.
Trump's reasoning for wanting to know the identity of the writer, he told reporters Friday, was a matter of national security. "Suppose I have a high level national security, and he has got a clearance — we talk about clearances a lot recently — and he goes into a high-level meeting concerning China or Russia or North Korea or something and this guy goes in. I don't want him in those meetings."
In response to the president's suggestion that the DOJ open such an investigation, the Times put out a statement saying:
We're confident that the Department of Justice understands that the First Amendment protects all American citizens and that it would not participate in such a blatant abuse of government power. The President's threats both underscore why we must safeguard the identity of the writer of this op-ed and serve as a reminder of the importance of a free and independent press to American democracy.
"I don't mind criticism, I handle it and I fight back," Trump continued, per CNN. "But here's criticism where you can't fight back. 'Cause you have somebody doing it anonymously."
First lady Melania Trump on Thursday made a similar remark in a rare public statement about the op-ed, saying, "If a person is bold enough to accuse people of negative actions, they have a responsibility to publicly stand by their words and people have a right to be able to defend themselves."
In her own statement, White House Press Secretary Sarah Huckabee Sanders also labeled whoever wrote it a "coward" and called on them to resign.
Trump has been tearing into the op-ed all week. At the White House on Thursday Sept. 6, he told reporters, "We have somebody in what I call the failing New York Times that's talking about he's part of the resistance inside the Trump administration. ... This is what we have to deal with. And you know the dishonest media ... But it's really a disgrace." He also lashed out at his own staff, according to the Times.
He continued to tweet about the op-ed throughout the days following its publication as well, calling the move "gutless." And on Thursday night, Trump clearly still hadn't gotten past talking about it publicly, using part of his rally in Billings, Montana to throw shade on the author. (Unfortunately, he didn't quite manage a proper pronunciation of the word "anonymous," leading to endless jokes on the internet.)
As more and more staffers deny writing the op-ed, it's probably only a matter of time before the author's identity is known. And with so much heightened and continued speculation around the piece, it's clearly not disappearing from the national conversation anytime soon, even if the investigation doesn't come to fruition.