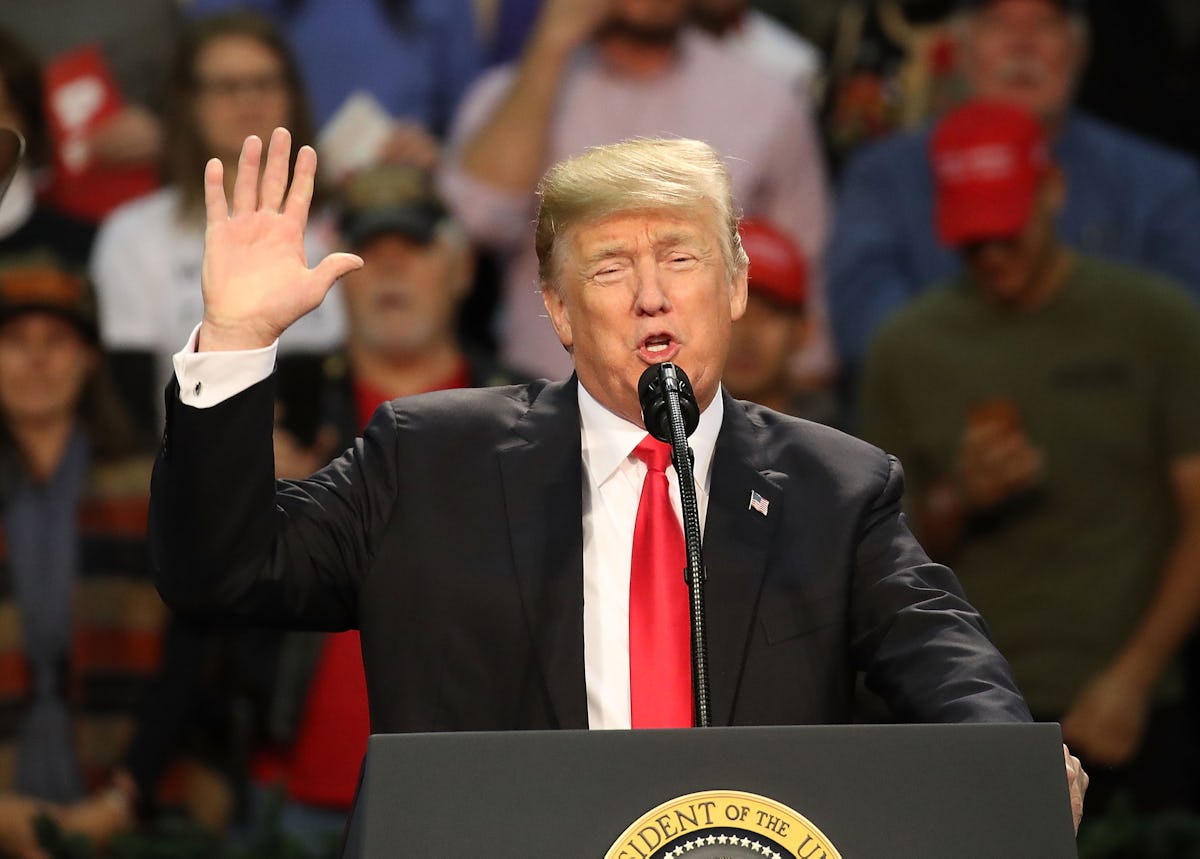 Donald Trump Tweeted About TV Instead Of The NYC Explosions & People Are Fuming
Joe Raedle/Getty Images News/Getty Images
The president took to Twitter in the aftermath of the Port Authority bombing on Monday, Dec. 11, but didn't acknowledge the incident. Donald Trump tweeted about TV instead of the New York City explosions, and people were not pleased with his comments. Rather than focus on the bus terminal, he decided to hone in on its neighbor, The New York Times, and the paper's reports that he watches four to eight hours of TV each day.
The president wrote on Monday morning,
"Another false story, this time in the Failing @nytimes, that I watch 4-8 hours of television a day - Wrong! Also, I seldom, if ever, watch CNN or MSNBC, both of which I consider Fake News. I never watch Don Lemon, who I once called the 'dumbest man on television!' Bad Reporting."
On Dec. 11 around 7:30 a.m. ET, preliminary reports said an explosion happened by 42nd Street and 8th Avenue near a tunnel connecting the Port Authority and Times Square subway stations, according to The New York Times. The Port Authority bus station was evacuated and many subway lines — the 1, 2, 3, A, C, E, N, Q, R, W, and 7 — will skip the 42nd Street stop in the wake of this incident. As of 11 a.m. ET, the president has not acknowledged the events on Twitter.
Given the circumstances, people reacted pretty strongly to the president's tweet about The New York Times.
Some tweets, however, actually backed the president's words.
Other political officials did respond to the explosion. Governor Andrew Cuomo said in a press conference, "This is New York; the reality is that we are a target to many who want to make a statement against democracy, against freedom." Some took to social media to praise the efforts from the New York City Police Department and New York City Fire Department.
Senator Kirsten Gillibrand was one of the officials who acknowledged the event. She wrote,
"Grateful to the NYPD for quickly apprehending the suspect at Port Authority. We must remain vigilant and give law enforcement the federal resources to keep us safe."
Senator Chuck Schumer also chimed in. He said,
"Thankful for the quick response of @NYPDnews, @PANYNJ PD, @FDNY & Bomb Squad at the Port Authority this am. As we learn more about what happened, it is a startling reminder why the "see something, say something" campaign is so important to keeping our city safe."
New York City Mayor Bill de Blasio had a message on his Twitter account, @NYCMayor. It read,
"We are a target because we prove a society of many faiths and many backgrounds can work – we show democracy can work. But we are the most resilient place on earth. We've proved it time and time again."
The suspected bomber — who was taken to Bellevue Hospital for injuries and is in custody, according to officials — was believed to have had wires attached to him, as well as a device that could have been a pipe bomb and battery pack, according to The New York Post. Four people, including the alleged suspect, sustained none-life-threatening injuries following the explosion, according to USA Today. Mayor Bill de Blasio identified the incident as an attempted terror attack and said, "Thank God the perpetrator did not achieve his ultimate goal," according to USA Today.
Those in New York City can expect to see heightened security measures, particularly along major transit hubs, according to a tweet from Mayor Bill de Blasio. Governor Andrew Cuomo stated, "Let's get back to our daily business. We will never allow them to disrupt us. That's exactly what they want."
For those who need assistance in coping with the aftermath of this incident can call 1-888-NYC-WELL, which the mayor also noted on social media with a retweet. Stay safe, New York City.