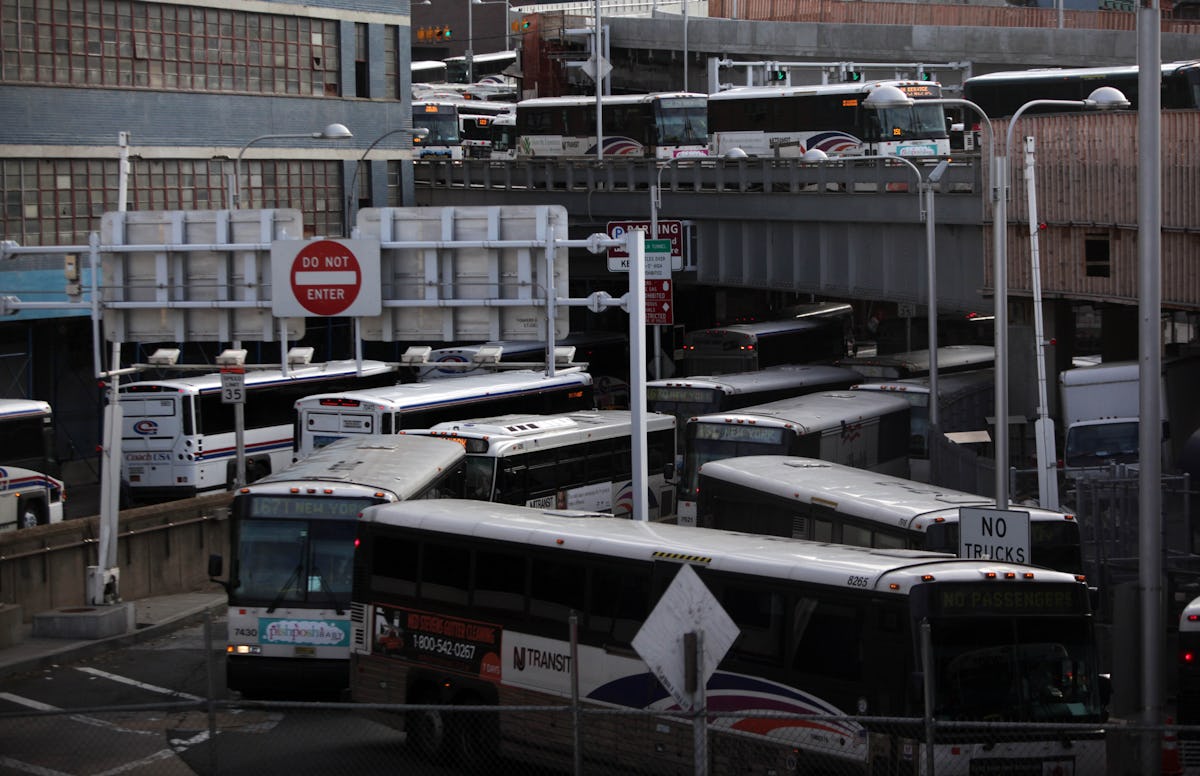 An Explosion Was Reported By New York's Port Authority
Allison Joyce/Getty Images News/Getty Images
Around 7:30 a.m. on Monday, Dec. 11, an explosion was reported near Port Authority in the center of New York City. Preliminary reports indicate that the explosion happened by 42nd Street and 8th Avenue, according to The New York Times, near the tunnel that connects the Port Authority and Times Square subway stations. The Port Authority bus station was evacuated, and multiple subway lines — the 1, 2, 3, A, C, E, N, Q, R, W, and 7 — were bypassing 42nd Street on Monday morning. This is an incident that Mayor Bill de Blasio is calling "an attempted terrorist attack."
In a press conference held Monday morning, Governor Andrew Cuomo said, "This is New York; the reality is that we are a target to many who want to make a statement against democracy, against freedom." However, Cuomo explained, New Yorkers "all pitch together, and we are a savvy people, and we keep our eyes open." Conclusively, Cuomo said, "let's get back to work."
De Blasio said in the press conference that there are no known additional activities and this explosion appears to be just one person's actions.
According to the New York Post, a suspected bomber had wires attached to him, as well as a device that could have been a pipe bomb and battery pack. A device on the person partially detonated in a passageway in the subway system. That person was brought to Bellevue Hospital for injuries, according to officials. He is in custody.
The New York City Fire Department (FDNY) wrote on Twitter that there were a total of four injuries on the scene at Port Authority and that "all injuries are non-life-threatening." The three other injuries were minor, an official said in a press conference, and the injured brought themselves to New York hospitals for treatment.
The New York Police Department said in a tweet after 7:30 a.m. that they were "responding to reports of an explosion of unknown origin at 42nd Street and 8th Ave." They added that the "A, C and E line are being evacuated at this time."
In a follow-up tweet around 8:30 a.m. on Monday morning, the New York Police Department (NYPD) wrote, "One male suspect is in custody. No injuries other than suspect at this time. Avoid the area. Subways bypassing #PortAuthority and Times Square Stations."
Eric Phillips, press secretary for New York Mayor Bill de Blasio, said on Twitter that the mayor was heading to the scene. De Blasio and Cuomo gave a briefing to the public at 42nd and 8th at about 9:40 a.m. Phillips added that while it's still a "very active crime scene," the NYPD are on high alert for "related activity at Port & on subway system — NONE reported so far."
"Our first responders were there quickly and the only injuries we know of right now are minor," de Blasio said at the press briefing near Times Square. "We are a target because we prove a society of many faiths and many backgrounds can work — we show democracy can work. But we are the most resilient place on earth. We've proved it time and time again."
The officials reiterated during the press briefing on Monday morning that the subway and bus systems are being resumed, although public transit around the area of the explosion will take some time. With a central transfer hub like Times Square out of service, many New Yorkers are facing hefty transit delays. The officials also reiterated that there do not appear to be any further threats to the city at this time, so it's back to work as usual for the City of New York.