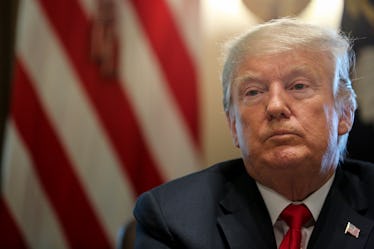 We Might Finally Know Why Trump Is The First President In Decades With No Pet
Pool/Getty Images News/Getty Images
President Barack Obama had Bo and Sunny, President George W. Bush had Spotty (also Barney, Miss Beazley, India, even a cow named Ofelia), and President Bill Clinton had Socks and Buddy. Even Vice President Mike Pence has a bunny named Marlon Bundo, but you know who doesn't have a presidential pet? President Donald Trump, and now we might finally know why. Donald Trump reportedly hates dogs — so that might explain why there's nothing cute in the White House RN.
Former aide and Apprentice hotshot Omarosa Manigault released a new tell-all book,Unhinged, on Tuesday, August 14 that included several allegations against the president and his staff — including claims that there are tapes of Trump saying the N-word. Elite Daily reached out to the White House for comment on the claims, but did not hear back. However, Trump denied all of the claims made by Manigault in a series of tweets on August 13 calling his former aide "wacky," "vicious," "not smart," and a "low life" — and then took it one step further and called Manigault a dog.
While of course calling someone a dog is a terrible thing to do in any situation, apparently it's actually the worst insult Trump has in his arsenal, according to The Washington Post. Sources who have observed Trump for a while told the publication on Tuesday that calling Manigault "that dog" shows how angry he is because he has "an aversion to dogs and other pets." So, according to The Washington Post, the president sees "canine-comparisons" as one of the worst put-downs. Ouch.
While Trump is known for slinging insults on Twitter, he's doesn't really pull out the dog one that often — almost never. According to the Trump Twitter Archive, he's called people a "low-life" about 15 times, "clown" about 45 times, there are 52 "moron" tweets, and 183 tweets with "stupid," but there are only about four calling people a a dog outright.
So "that dog" insult is even worse that we might have initially thought, but at least we know why there are no pets in the White House. According to the Presidential Pet Museum, Trump is the first president since Andrew Johnson in the 1860s to not have any pets of his own, and the first since William McKinley at the turn of the 1900s not to have a dog, so he's breaking precedent in a lot of ways on this one.
Speaking of presidential pets, the best clapback at Trump over his dog comment about Manigault came from Obama's official White House photographer (and everyone's favorite shade master) Pete Souza. Even better? He used a former furry White House resident — Bo Obama (Bobama?).
On August 14 Souza tweeted a photo of Bo sitting in a White House doorway, staring at Obama as the president walks through the door. "A real dog waiting for a real President." wrote Souza. Burn.
Souza has become famous for his super clever trolling of Trump ever since the 2016 campaign trail, and I have to say that this ranks up there with the best of them. The tweet came right after Trump had blasted Omarosa over the claims in her book, denying all the allegations and calling her names. It's even better now that we know Trump is not a fan of the doggos.
With everything else going on in the White House, most of us probably haven't noticed that there's no furry friend running around the Oval Office. But now that I know the reason is because Trump just reportedly hates pets, well I just can't unsee it.