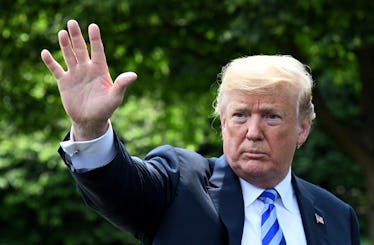 Donald Trump Might Testify In A Lawsuit About His Alleged Sexual Misconduct, & Yikes
Pool/Getty Images News/Getty Images
As if there weren't already enough drama surrounding the president, this latest news is surely about to take things to the next level. Donald Trump might testify in Summer Zervos' lawsuit against him, in which the former Apprentice contestant accused Trump of defamation related to sexual misconduct claims she previously made against him, and even I'm feeling the pressure. This just doesn't look good at all, folks.
On June 5, New York Supreme Court Justice Jennifer Schechter ruled that President Donald Trump can be called to testify by deposition in upcoming legal proceedings in his ongoing defamation battle with Zervos. The former Apprentice contestant is suing Trump for saying her sexual misconduct claims against him are lies, while Trump has maintained that her claims are made-up. In addition to that, attorneys for both the president and Zervos are required to make their demands for documents by July 13 and respond to those demands by Sept. 27, according to Politico. The Guardian also notes that Zervos' attorneys have already issued subpoenas in search of documents about Trump's behavior toward women, including the infamous Access Hollywood recording from 2005 when Trump boasted about groping women, as well as any potential Apprentice recordings of Trump talking about female contenders in an inappropriate manner. (See, I really wasn't kidding when I said this thing was getting real.)
Schechter also ordered both Trump and Zervos to submit to depositions with a deadline of Jan. 31, 2019. However, Trump is trying to avoid the deposition, and his lawyers have even started the appeal process with New York's Supreme Court in order to do so. They maintain that Zervos' intentions in suing Trump are politically motivated.
The ruling is the latest major update since Schechter allowed Zervos' case to move forward. The Washington Post notes that Trump's lawyers had previously attempted to block the legal action on the basis that a sitting president cannot be sued in state court. However, Schechter — citing the Paula Jones harassment case that led to President Bill Clinton's impeachment in 1998 — declared on March 20 that "a sitting president is not immune from being sued in federal court for unofficial acts." She reportedly added, "No one is above the law."
Though the legal battle is seemingly just now heating up, it's been going on for quite some time. Zervos is one of more than a dozen other women who accused Trump of alleged sexual misconduct during his campaign bid back in 2016. She claimed that'd he'd made unwanted sexual advances toward her, including kissing and groping her in 2007, after she appeared on his hit show. On one occasion, Zervos claims Trump invited her to dinner at the Beverly Hills Hotel, but upon her arrival, he escorted her to a bungalow instead, where he allegedly, "started kissing [her] open-mouthed." She alleged, per NBC News:
I pushed his chest to put space between us, and I said, 'Come on man, get real.' He repeated my words back to me, 'get real' as he began thrusting his genitals. He tried to kiss me again with my hands still on his chest, and I said, dude, you're tripping right now, attempting to make it clear I was not interested.
Trump has vehemently denied not only Zervos' claims, but all the women who have accused him of alleged sexual misconduct. He lashed out at his accusers via Twitter on December 12, claiming that all of them were a part of a "fake news" campaign against him.
The White House's official position is also that Trump's accusers are lying. Zervos' suit against Trump, which she filed in January 2017, alleges emotional harm and economic damage from Trump's claims that his accusers, including Zervos, are liars. The suit claims,
In his effort to win the Presidency and counter the damage to his election prospects caused by his own recorded words with Billy Bush, Mr. Trump knowingly, intentionally and maliciously threw each and every one of these women under the bus, with conscious disregard of the impact that repeatedly calling them liars would have upon their lives and reputations.
There's no telling where the case goes from here, but Trump could be in hot water soon, and that thought alone is pretty stirring. There's a long road between now and January, but let's be sure to keep an eye out on this one to see how justice prevails.