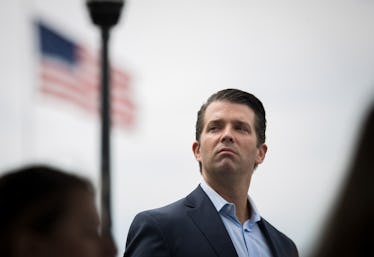 Donald Trump Jr. Posted "Fake News" About Voting Fraud & Twitter Is Roasting Him
Drew Angerer/Getty Images News/Getty Images
Donald Trump Jr. could have avoided getting roasted if he did a little fact-checking before posting one particular tweet on Nov. 12 — but he didn't. On Monday evening, he took to his favorite social media platform to post about Florida voters, tweeting out a link to an article alleging that some 200,000 non-citizens are registered to vote in the state, seemingly in an attempt to push a voter fraud theory about the Nov. 6 midterm elections in Florida. The thing is, though: it's all fake news, as the claim in the article was debunked. Now, Twitter is roasting Donald Trump Jr.'s post about voting fraud in Florida, and it's so, so embarrassing. Elite Daily reached out to representatives for Trump Jr. at the Trump Organization for further comment on the post, but did not hear back by the time of publication.
The post comes on the heels of similar claims from his father, President Donald Trump, alleging cheating in the close Senate race in Florida. On Nov. 12, Trump Jr. shared an article published by NBC Miami on Twitter, captioning his post, "Amazing, but not shocking at all anymore. Nearly 200,000 Florida Voters May Not Be Citizens."
However, Trump Jr. probably should have done some double-checking first. For one thing, the story was actually written in 2012 (which it says literally in the headline) — so it has nothing to do with the 2018 election. What's more, it also includes an editor's note right at the top that says the claims in the story have been debunked, with the supposed list of 180,000 non-citizen "voters" bumped down to 2,625, which was then whittled further to just more than 200 after double-checking names against a federal database. At the end of the day, of the 12 million voters in the state, only 85 non-citizens were removed from voter rolls — three months before that year's elections even took place and anyone had a chance to vote. Trump Jr.'s post is just wrong, is what I'm saying — and now, Twitter users are letting him have it.
"You're really not good at this." Yikes.
Awkward. That same day — amid slim leads for Republicans Rick Scott and Ron DeSantis in their respective Senate and gubernatorial battles — President Trump posted an unfounded tweet suggesting that some major foul play went on in the Florida elections, that ballots in the state were "missing or forged," and declaring that the races should be called in favor of the Republicans. The White House did not immediately return a request for comment on the subject.
According to The New York Times, Gov. Rick Scott has also accused election officials of "rampant fraud." On Nov. 8, Scott announced that his Senate campaign had filed a lawsuit against the Democratic elections supervisors of Broward and Palm Beach Counties in an address at the Governor's Mansion, saying:
The people of Florida deserve fairness and transparency, and the supervisors are failing to give it to us. Every Floridian should be concerned there may be rampant fraud happening in Palm Beach and Broward Counties. We've all seen the incompetence and irregularities in vote tabulations in Broward and Palm Beach for years.
Scott added. "But here we go again. I will not sit idly by while unethical liberals try to steal this election from the great people of Florida." Representatives for the Florida Division of Elections did not immediately respond to Elite Daily's request for comment.
Anyway, Trump Jr. has a history of getting things wrong, so some times it's best to take his comments with a grain of salt.
Fact-checking never hurts either, though — a lesson he'll hopefully learn sooner rather than later.