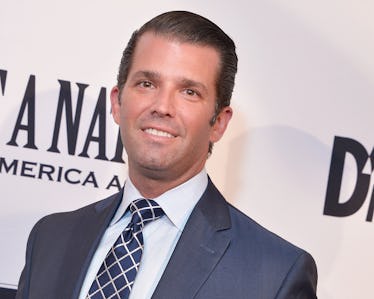 People Are Pissed At Donald Trump Jr. Over A Meme About Kavanaugh's Sexual Assault
Shannon Finney/Getty Images Entertainment/Getty Images
The eldest son of President Donald Trump is in headlines again after making a gutsy social media post on Sunday, Sept. 16. Donald Trump Jr.'s Instagram about Brett Kavanaugh's sexual assault allegation is causing a major uproar in the capital and beyond. Many are taking the post as an attempt to mock Christine Blasey Ford, who accused Trump's Supreme Court nominee of sexual assault over three decades ago. Elite Daily reached out to the Trump Organization and the White House for comment on Trump Jr.'s post but did not hear back at time of publication.
The post came just as Ford, a psychology professor in Palo Alto, California, publicly came forward via an article in The Washington Post Sunday. News of the accusations began trickling out earlier in the week as a story in The Intercept on Sept. 12 reported on the existence of a letter detailing the accusations.
Ford had reportedly contacted the Post's tip line in early July, the newspaper reports, and later sent a letter to Congresswoman Anna Eshoo that was then forwarded to Sen. Dianne Feinstein. The senator then referred the incident (with the name redacted) to the FBI for investigation, and the agency reportedly updated the White House record on Kavanaugh to reflect the nameless letter, making it viewable to all senators.
The letter and the Post's Sunday article describe allegations that claim Kavanaugh, allegedly intoxicated while at a party, allegedly attempted to force himself on Ford and take off her clothes after allegedly pushing her into a bedroom. Ford says she was able to escape the situation but has experienced psychological distress following the incident; she reportedly refrained from coming forward until recently due to concerns for herself and her family.
In response to the allegations, Kavanaugh released a statement on Friday, Sept, 14 that read: "I categorically and unequivocally deny this allegation. I did not do this back in high school or at any time," and doubled down in a second statement on Monday, saying, "This is a completely false allegation," adding that he'd be willing to go before the judiciary committee again to "defend [his] integrity."
The Instagram post from Trump Jr.'s official account on Sunday appeared to mock the letter sent from Ford to her representatives in Congress. The photo appeared to be of a boy's handwritten love letter to a girl asking her to be his girlfriend, written in red crayon.
In the caption, Trump Jr. writes: "Oh boy... the Dems and their usual nonsense games really have him on the ropes now. Finestein [sic] had the letter in July and saved it for the eve of his vote... honorable as always. I believe this is a copy for full transparency." As of writing, the post had garnered over 47,000 likes and over 4,700 comments on Instagram.
On Twitter, some users attacked the president's son for his post. Many noted the parallels between Trump Jr.'s response to Ford's allegations and his father's own remarks pushing back against and denigrating the legion of women who've accused the president of sexual misconduct (which totaled at least 19 as of December) that the president has repeatedly denied. Other mentioned that, despite backlash over it, he still hadn't taken it down as of Monday afternoon.
One user even went after Trump Jr.'s sister Ivanka, writing "Dear @IvankaTrump: Looks like your brother is mocking a woman who is trying to speak out about being sexually assaulted, and is generally minimizing sexual assault as an overblown accusation. I look forward to your comments as a #MeToo supporter."
It's not clear what Trump Jr.'s intention with this post was. But whatever the intention, the post doesn't erase the fact that the accuser has a case. Ford reportedly took and passed a polygraph test to verify her veracity in her account of the incident, which the Post said it reviewed. Ford's husband was also interviewed, and exchanges with her therapist were also taken into account in corroborating her story.
Also Monday, Debra Katz, an attorney who is representing Ford, reportedly told CNN she is willing to testify. "[Ford] believes that if it were not for the severe intoxication of Brett Kavanaugh, she would have been raped," Katz told the outlet.
Ford's coming forward has prompted several senators from both sides of the aisle to express an interest in hearing from her before the vote on Sept. 20, though they appear divided on how exactly they would do so. Some senators have also called for a postponement of the vote in light of the allegations, but as of now, it remains unclear whether this will happen. Elite Daily reached out to several senators as well as the White House for comment regarding the vote to confirm Kavanaugh, the allegations themselves, and whether the nomination would be withdrawn, but did not hear back at the time of publication.
The judiciary committee vote is still set for Thursday afternoon, though a "yes" isn't needed to move forward on a full Senate vote (it simply provides additional approval). The full vote is not yet scheduled, but is not expected until the week of Sept. 24 at the earliest.